Rolling Loud brought in over 70,000 hip-hop fans for a thrilling weekend of performances outside the walls of SoFi Stadium. The excitement surrounding days one and two led to a sold-out finale on Sunday. The event also represented a celebration of 50 years of hip-hop.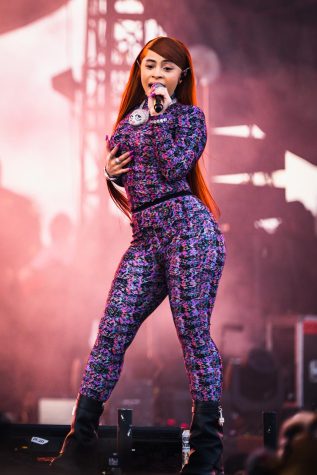 The festival grounds were surrounded by some of the premiere concert venues of Inglewood, including the Kia Forum and the newly-built YouTube Theater. The weekend itself was filled with surprise guest appearances and endless mosh pits across all three stages – Levi's main stage, GoPuff and Culture Kings.
In between sets, attendees had a variety of brand pop-ups, food options and carnival rides to indulge in to elevate their Rolling Loud experience.
From inside the VIP section, Bunny's Bae Bar allowed attendees to experience makeovers by talented stylists and leave with new looks to have on display. In addition, there was a tattoo shop where attendees could reserve free tattoo appointments to commemorate their time at Rolling Loud.
Although attendees came anticipating legendary performers Playboi Carti, Travis Scott, Future and Lil Wayne to take the stage, many rising artists had the opportunity to showcase their work to new audiences.
Day 1
Hoosh, a Miami-based Sudanese artist, was the first artist to perform at Levi's main stage. He compared his feelings being on stage to the fear and excitement of reaching the top of a roller-coaster. That same rush gave him a chance to set the tone for Friday's performances.
"I haven't performed on a Friday yet so being there when everyone was fresh and just hit the festival grounds for the first time was the best," Hoosh said. "Everyone has that excitement and energy so I definitely got to feel that on stage."
On the other side of the festival grounds, Opium Records' rising stars Destroy Lonely and Ken Carson brought the rage to Rolling Loud. The two performers performed back-to-back sets at the GoPuff Stage and their use of pyrotechnics warmed the audience up for Playboi Carti's set later that night.
As the first headliner of the weekend, Carti started off with an unreleased track that was made five minutes before his set, according to a tweet sent out by his producer. After a few songs, the organizers paused his set due to an overcrowded moshpit. Thankfully, Carti returned for four more tracks.
Before his final song, he expressed gratitude to his fans.
"Listen, they wanted me to stop my show three songs in and I came back out because I love my fans," Carti said. "The most important thing is about your guys' safety and I'm sorry. I love you guys so much but I have to leave."
He ended with a classic that hasn't been heard in a live performance in years: "Location." The entire attitude of the crowd changed as the synths began to swell and guitars buzzed. The finale included a full firework show, lasers and fire.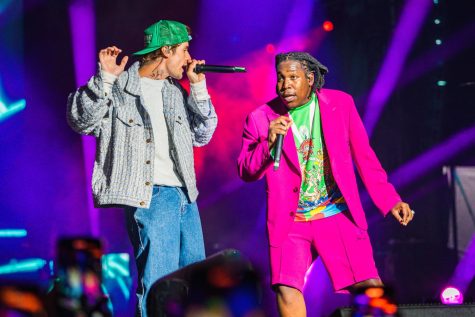 Day 2
The second day of Rolling Loud featured some of the most headline-grabbing moments of the festival, from surprise appearances to newsworthy returns.
Don Toliver brought the party to day two, energizing the crowd with his smash hits "After Party," "Lemonade" and "No Idea." The set also marked his first festival performance of his new album "Love Sick."
To promote the new record, Toliver brought out a handful of surprise guests: Justin Bieber, Kali Uchis and James Blake. Bieber's appearance in particular caused a frenzy in the crowd and set Twitter ablaze following his cancellation of his "Justice World Tour."
Perhaps the biggest storyline of the festival was Travis Scott's return to festival-size events in the United States. His fiery performance – accompanied by pyrotechnics, smoke and an abundance of eagle sound effects – delighted the audience.
His smash hit "Sicko Mode" was cut off early due to the 11 p.m. curfew. The technical difficulties didn't deter Scott's fans, as they watched him play the remainder of that song and "Goosebumps" at a lower volume.
Meanwhile on the GoPuff Stage, Lil Wayne brought Nicki Minaj to perform a few of their biggest collaborations together – "Bedrock" and "Truffle Butter."
Day 3
Attendees were captivated by day three's star-studded lineup. The excitement had been building since early afternoon with standout female artists BIA, Ice Spice and Coi Leray performing.
Ice Spice's fans went all out, some holding up signs and wearing wigs inspired by her signature orange hair.
Later in the night, Lil Uzi Vert brought multiple unreleased tracks to the main stage and teased his highly anticipated project, "The Pink Tape." Although it was rumored to have a February release date, Uzi Vert reassured fans that he is working hard to complete the project soon.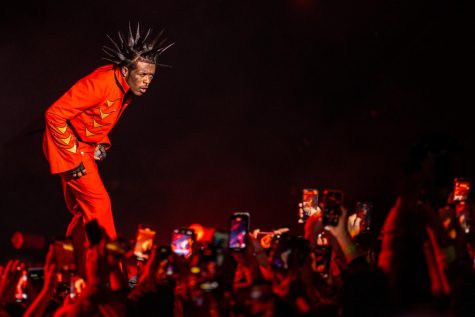 "I do make y'all wait a long time for music and I'm so sorry," Uzi Vert said. "I'm putting the final touches on Pink Tape and I promise. I made a lot of promises in my life, but this time I promise."
To wrap up his set, he played "Just Wanna Rock" not just once – but twice. Seemingly every attendee jumped up and down in sync for the euphoric performance.
Fans were then torn in their decision to choose between securing a good spot for Future or leaving to see Lil Yatchy and Sheck Wes' performances at the other stages.
Lil Yachty's set was an eclectic mix of progressive rock and hip hop. He opened with tracks from his latest record "Let's Start Here." Yachty was accompanied by an all-female band: three background singers, two guitarists, a drummer and a keyboardist.
A "2016-2022" title card signified a shift in the show, as Yachty then brought back all of his early-career hits.
Future was the last performance of the festival. He brought out special guests A$AP Ferg and Nardo Wick. His most recent hit, "Superhero," had fans screaming the lyrics at the top of their lungs. The iconic rapper ended with "Worst Day," and his performance brought Rolling Loud 2023 to a close.
Aztec pride could be found on stage at Rolling Loud as a large crowd of SDSU students and graduates watched performances by artists Kalan.FrFr and Saweetie, two San Diego State alumni.
Junior Michael Simonella felt a large sense of community over the weekend which spoke volumes about the type of energy rage state brings wherever it goes.
"Going to school here, there's a diverse group of people listening to different music and (when) you go into these sets, quite literally everyone in there knows the words to basically every song," Simonella said. "It's a great experience and a great way to relax and have your mind off of everything in your life."