San Diego celebrates Irish heritage with the 41st Annual St. Patrick's Day parade and festival
San Diego and its Irish community celebrated St. Patrick's Day in an event full of dancing, music, authentic Irish food and more
Despite it being wet and muddy, the merriment was in full swing when the parade started around 10:30 a.m. 
It began on the corner of Fifth Ave. and Laurel Street, wrapped around the block and ended next to Balboa Park. A man at the top of the San Diego Law Enforcement Emerald Society's float reminded the parade attendees that even with the gloom, it would be considered a sunny day in Ireland. 
President of The Irish Congress, Kevin Bonner, described a new layout the city approved for this year's event. 
"I'm happy to announce that this will be the first year with an all-inclusive parade and festival," Bonner said. "There will be plenty of food and craft vendors, a Celtic village, a kid zone and two stages with Irish music playing all day."
Children, head to toe in green, ran around singing and yelling as disgruntled Irishmen and women tried to find the beer. But, despite the grumblings, the day would not have been complete without that good old-fashioned Irish temper and everyone seemingly enjoying themselves. 
Marching along in green blazers and scally caps, The Friendly Sons of St. Patrick smoked from wood pipes and chanted in unison.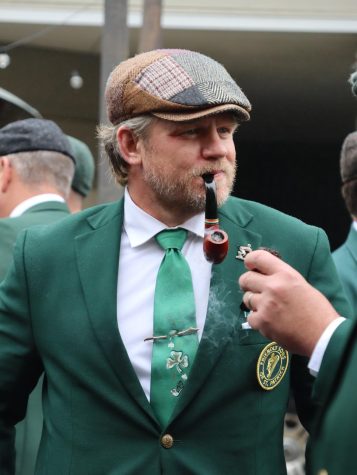 The Friendly Sons of St. Patrick is the largest single benefactor of the festival since it began in the '80s. Every year, the Irish fraternity holds a fundraiser to finance the festival and parade to uphold its mission of sharing and celebrating Irish culture.
While the parade is held in honor of St. Patrick's Day, it is much more. 
Since its beginning, it has been an appreciation of San Diego's colorful culture and all its intersections. Tui Wise, a Ceili dancer, has attended the parade for about 10 years. This year, she marched in the parade with the Pride of Erin Céili Dancers. Pride of Erin is one of the oldest dance organizations in San Diego and specializes in céili dancing. Céilis are traditional folk dance parties in Ireland that began in 16th century Ireland. 
"This is a really eclectic parade," Wise said. "It really does bring a lot of interesting people together."
Part of what brings in so many people is the number of cultures celebrated. 
The procession was brightened by the extravagant feathered costumes of the Brazilian dancers and the swirling, swinging skirts of ballet folklórico dancers.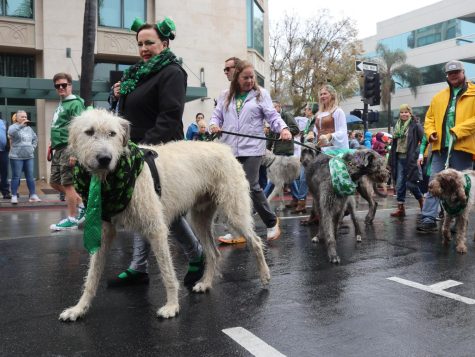 Some also might have been surprised to see the Ukrainian national flag flying amidst all the green. For a second year, The House of Ukraine Cultural Museum marched with many of its volunteers. 
"We are here raising awareness for the ongoing war in Ukraine," Craig Gresbink, a volunteer, said.  
Gresbink, a former San Diego State University Delta Sigma Phi philanthropy chair, has been volunteering at House of Ukraine for seven months. He said his involvement in his community has been positively influenced during his time at SDSU. 
Mary Margaret Rochford, 2023 Irish Woman of the Year, said St. Patrick's Day used to be a much quieter holiday in Ireland. In the present, however, it has grown in liveliness. 
Rochford also noted that American celebrations have outpaced Ireland in excitement and popularity.  
"They want the Guinness!" Rochford said. 
No amount of Irish luck could have allowed this event to become the biggest St. Patrick's Day celebration on this side of the Mississippi River. 
The hard work and dedication of the parade's organization has been vital to its success. Those in attendance showed not only their appreciation of the culture but their support for the Irish community in San Diego as well.