On the evening of March 13, the line outside of Viejas Arena was unbelievable. 
"My brother and I have been waiting here since 7 a.m. this morning," said Amna Dibis, concert attendee and San Diego State University student. "We weren't even the first! Some people have been here since 11 p.m. last night, just camping out." 
By 6 p.m., several long lines had formed in front of each entrance, with hundreds of young fans buzzing with excitement. That night, they would all be seeing the much loved singer-songwriter Omar Apollo and this year's R&B superstar, SZA.
SZA's first-ever arena tour was announced last year alongside her third and newest album, "SOS." "SOS" topped the Billboard charts and garnered much acclaim from fans, who have been waiting for a new album since SZA's 2017 hit, "CTRL." 
"I can't wait to see SZA's performance," Summer Sanchez, a junior at SDSU, said. "I love the experience of concerts. You can hear it through your headphones, but being there is such a different experience."
As fans finally entered the arena, loudspeakers blared over the excited cacophony: "Tonight's concert is completely sold out." The show was about to begin.
The lights went out and amidst the screaming, Omar Apollo hit the stage.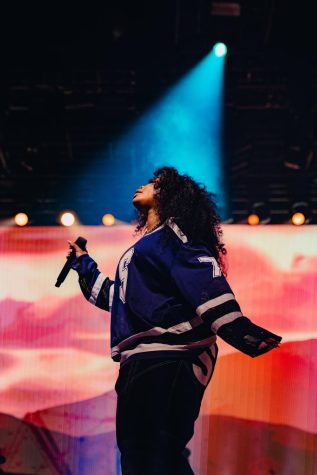 Apollo first emerged in the music scene in 2017, and within the past few years, he has grown astronomically in popularity, with Grammy nominations already under his belt. Now, he's touring with SZA to promote his debut album "Ivory."
The moment he began to sing, he caught everyone's attention. His sultry singing style started the show off by guiding the audience through songs from his mixtape "Apolonio" to newer songs off of "Ivory," including "Killing Me" and "Endlessly."
"My name is Omar Apollo. I'm happy to be here," Apollo said at the start of the show.
Apollo's infectious smile won the crowd, and his positive attitude shone through in small gestures, like hand hearts or peace signs. In his excitement, he spun across the stage for lively songs like "Tamagotchi" and "Kamikaze," but his vocals never faltered. Fans screamed to every high note he hit and swayed to his harmonies. 
In a stripped-down show, Apollo's lack of theatrics brought attention to his voice and presence alone. He stood below a single spotlight for much of his set, singing his heart out while visuals danced behind him.
Apollo's performance felt intimate; his style of singing was often sensual, reflected in his many love songs and smooth Spanish lyrics — it was as if Apollo was serenading his audience.
 By the end of his set, Apollo earned overpowering cheering from the entire arena. 
"San Diego loves me!" he exclaimed smiling. Apollo's humble positivity and unapologetic romanticism created an atmosphere of excitement and made for a perfect opening act. 
Then, in a blaze of blue glory, SZA's performance began.
In a dramatic rise of a screen depicting an ocean storm, SZA was revealed with a microphone in hand. The set cleverly recreated the "SOS" album cover, as she sat perched on the edge of a plank while deep blue waves moved realistically behind her.
In an unexpected move, SZA started the show with an unreleased song from her "CTRL" era called "PSA." The rhythmic, hypnotic song set the tone for a show full of surprises.
As the stage transformed into a seaside dock using projections and props, SZA launched into songs from "SOS," including the brazen and melodious "Seek and Destroy."
The air in the arena was electric, and SZA was a live wire.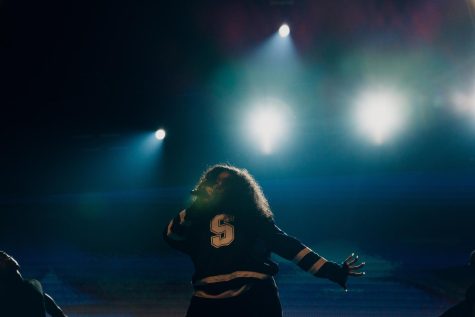 Her energetic and captivating vocals paired with hip-hop choreography and incessant ocean waves created a cinematic experience. As she sang "Love Galore," the sun set behind her and the crowd screamed along. 
SZA was a soulful leading lady as she covered "Bag Lady" by Erykah Badu one moment, and became a maneater rap star in "Smoking on My Ex Pack" the next. Through it all, she displayed immense versatility.
The screen fell and rose yet again to reveal a full fishing boat. SZA stood at the helm as if it was her ship on a journey. At "Drew Barrymore," she collapsed on the deck, honestly baring herself  to the audience. 
The once calm sea behind her was becoming a full-blown hurricane, but SZA was unfazed. Singing "Doves in the Wind" and "Low" while dancers mimed fighting against the wind, SZA was bringing the audience with her through the storm, and her ship was going down.
Unarguably, the highlight of the performance was the moment in which the entire arena seemed to hold its breath — SZA took flight.
On a suspended life raft, she slowly rose above the crowd, throwing petals down to fans. In a single light beam, SZA sailed high above the audience, faces turning up in awe in her wake.
"I could be your supermodel if you believed. If you see it in me, see it in me," she sang.
SZA's performance was a story, and her ship was the focus. From the dock to sailing over the water, to its eventual crash, SZA left her ship to rise high above the crowd in an emergency raft, demonstrating the beauty that comes from disaster. 
The SOS tour was a stunning portrait of raw lyricism and visual art, bringing fans on an unforgettable journey across SZA's ocean.