Lucky, the Cosmos and the indie invasion of San Diego
Lucky and the Cosmos indicates the blossoming of independent music in the community
San Diego is an eccentric city. It is home to all kinds of people, including hippies, hipsters and even hipster hippies. Some find the strangeness charming while others may find it confusing, but the eccentricity of this city creates a perfect habitat for creative minds. A community of independent musicians is growing  and among these artists are the talented musicians who make up a band known as Lucky and the Cosmos.
Ian Kearns, Andre Ghashghaee and Sebastian Sotero grew up in San Diego, while Michael McGoven, the drummer, came down from Sacramento. The unconventional story of his induction into the band, however, certainly suits San Diego's worry free eccentrism.
"We were on the internet and we were like 'Bro, we need a drummer," Kearns said. "It's been like two years and we got no drummer.'"
Through the power of Craigslist, they had found their drummer. However, McGoven was not strictly a drummer.
"I started a long time ago when I was kind of little," McGoven said. "Later on in high school I joined jazz band for about three years playing guitar…but I can pretty much play anything if I take the time."
In fact, McGoven didn't start to consider himself a drummer until he joined Lucky and the Cosmos. Thankfully, Kearns, the band's lead singer, is skilled with a multitude of instruments, including the drums. McGoven learned most of what he knows about drumming from Kearns.
Kearns began his musical education in high school, picking up guitar and drums early on and even briefly joining the choir. Kearns has filled in for a number of different bands on different instruments, including playing the drums for The White Collars and playing the bass guitar for Matty Thomas. On top of his musical versatility, Kearns also frequently works as a live sound technician at house shows.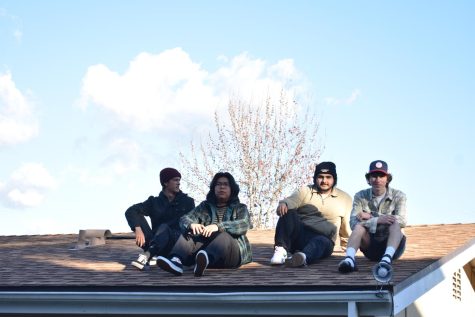 Sotero, Lucky's lead guitarist, is skilled in a few different disciplines of guitar playing, which brings a unique style to his sound.
"I started playing classical guitar in middle school," Sotero said. "I started doing Mariachi in high school and then later on I wanted to play more electric guitar type songs."
Yet another multi-instrumentalist, Ghashghaee rocks out on both the bass guitar and the alto saxophone, which adds yet another splash of nuance to their sound.
"Around 16 I bought this crappy little $10 guitar from my friend, and with that I was able to teach myself chords," Ghashghaee said. "A few months later they asked me to play saxophone for their first album."
As a result of the eclectic musical ability of its members, Lucky and the Cosmos has achieved a chill, introspective sound which draws heavily on other independent San Diego bands, such as the Frights, Saint Luna and Pierce the Veil. Kearns simply described their sound as "surf indie rock", and he explained that their songwriting process is fairly intuitive thanks to their familiarity with each other's instruments.
"It doesn't take a genius to figure out what's good and what's not good," Kearns said. "Obviously you gotta get through the bad to get some good, and then from the good you make it better."
Lucky and the Cosmos is bound by a strong love for music and a deep well of knowledge of what sounds good. Their sound is deeply ingrained in San Diego culture, and according to Ghashghaee, they hope to one day be recognized as a band which represents its city. They have built an incredibly strong foundation, and their growing presence suggests that they are on their way to making waves in the local scene.
"As with any band, you're riding the train until the train either crashes or you need to get off before something disastrous happens," Kearns said. "So far the train is just getting out of the station."
A band of deeply motivated, multi-talented musicians does not come from nowhere – the budding career of Lucky and the Cosmos reflects a growing attitude within the music community. The city is gradually gaining recognition as a significant destination for musicians on the rise. Lucky and the Cosmos is certainly in the right place, at the right time, and they have all the right skills to put themselves– as well as their city – on the map.