On Thursday March 23, the Aztecs held a spring football game to a crowd of 3,000 to conclude offseason workouts going into camp. With slight sprinkling pregame, and cloudy skies hanging over Snapdragon Stadium, the Aztecs were excited to get back on the field to a sizable crowd. 
In the first quarter, San Diego State showed bright spots in their offense when senior starting quarterback, Jalen Mayden took a shot 39 yards to sophomore wide receiver Phillipine Wesely II. Mayden hit another of his targets, senior wide receiver Brionee Penny for a 53-yard pass and catch in the second quarter. 
The one score in the first quarter came from a 55-yard field goal, made by Junior kicker Gabriel Plascenia after a seven-play 25-yard drive held the Aztecs. Plascencia got Team Aztec going once again shortly into the second quarter as he put another field goal in from 42 yards out to finish off an eight-play, 34-yard drive. 
Mayden finished his performance going 12 of 22, and 219 yards passing, but was intercepted three times. "It's disappointing, he's disappointed," head coach Brady Hoke said of Mayden's performance. "You don't play until August. You have a lot of time to fix things up." 
Backup quarterback, freshman Kyle Crum came in and quickly connected with junior wide receiver Raphael Williams Jr. for 27 and 12-yard pickups. Sophomore tight end Cameron Harpole came down with a contested catch against junior safety JD Coffey II. Team Aztec then extended their lead to go up 13-0 when Crum hit senior tight end Mark Redman for a six-yard touchdown. The possession came after an interception from senior cornerback Noah Tumblin that he returned back 42 yards to get Team Aztec in scoring range. 
Tumblin, who has been here his first couple years, believes it is the secondary's time to shine this season, "I think the secondary would be the biggest part of the defense this year with everybody coming back this season. We have a really high ceiling for us this season." 
Just before halftime, Team Warrior were backed up in a third-and-15 situation, but Mayden found senior wide receiver Brionne Penny for an incredible 54-yard gain down to the Aztec 11. The defense fought back as junior cornerback Noah Avinger picked off Mayden on the left side of the end zone to keep Team Aztec ahead by the half. 
The defense was all over the offense once again as Tumblin grabbed his second interception on the first play of the second half, picking off fourth string quarterback, sophomore DJ Ralph. In that same quarter, sophomore safety Eric Butler came away with the secondary's fifth interception on the day. Butler picked off redshirt freshman quarterback, Liu Aumave, and showed the defense was a bright spot and hopeful of things to come.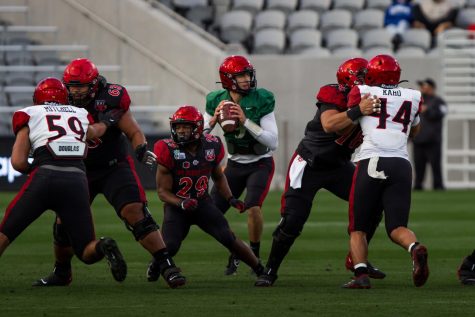 The SDSU secondary combined for five interceptions, 11 tackles for loss, six sacks, in addition to 12 pass breakups and a fumble recovery. When asked about five DB's making plays, and thoughts on the secondary, Coach Hoke noted, "I think that's one of our strengths as a football team." 
As time was expiring late in the fourth quarter, Team Aztec ended the scoring with Aumave leading a 96-yard drive, in 14 plays, resulting in a two-yard rushing touchdown from sophomore running back Martin Blake. Aumave completed 8 of 15 passes for a total of 102 yards to go along with an interception. 
Martin, a walk-on from Las Vegas at 5 foot 6,  led all rushers, carrying the ball 15 times for 68 yards for Team Aztec, while Team Warrior was led by redshirt freshman running back Lucky Sutton with 25 yards on five attempts. 
Senior wide receiver Darius Hyde led all receivers with four receptions for 61 yards on Team Aztec, while Team Warrior was led by Penny on 68 yards off of three catches. Redshirt freshman wide receiver Mikey Welsh was close behind with 30 yards on three catches. 
On the defensive side of the ball, sophomore safety Eric Butler led both teams with 10 tackles, tagging along four solo tackles along with a pass breakup and an interception of his own. 
San Diego State finished the 2022 campaign with a 7-6 record, continuing a streak for 13 years without a losing season —tied for the fifth longest active streak in the country. The Aztecs open their 2023 season on Aug. 26 at Snapdragon against the Ohio Bobcats.