Two popular cosmetic brands, Fenty Beauty and Maybelline, visited college campuses with their fourth and second stop at San Diego State University. 
On April 11, Fenty Beauty made their way to SDSU to showcase their products. The brand is known for their inclusive range of shades and shimmering highlighters.
Students began lining up an hour before the event kicked off, with wait times ranging between twenty minutes to an hour throughout the event. 
The event featured Fenty's Pro Filter Foundation, which comes in 50 different shades, and Eaze Drop Blurring Skin Tint, coming in a 25 shade range. Specialists guided students on finding the best fitting product for their needs and discovering their perfect match. 
"Everyone was super nice and informative," said Malia Oto, first year graphic design major. "The environment was very positive and inclusive."
Students lined up to get a color match and explore Fenty beauty products. A second line led to a claw vending machine with Fenty Beauty products. Staff passed out mini Fenty mascaras and coupon codes to students.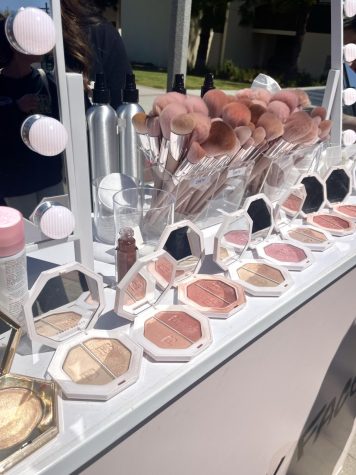 Music created a lively ambience, with a mid-day performance from the SDSU Diamonds, outfitted in bright blue two pieces. Images of Rihanna, celebrity popstar and founder of Fenty Beauty, were displayed on the main station truck, prompting students to stop and take pictures of the set up. 
"I have not been able to buy products before because they are pricey,"said Kayley Kubat, a second year public health major. "I think it's fun to have a real brand come out and help people."
Maybelline New York was also on the road, bringing their makeup and the energy of New York City to college campuses across the country. The Maybelline Press Play College Campus Tour allows students to sample the latest products, explore new looks and to see everything Maybelline has to offer. 
Between April 18 and April 19, the NYC themed pop-up transformed the end of Centennial Walkway at San Diego State. The Maybelline truck was covered in brick with colors varying from a stark black to different shades of pink, as well as graffiti with all things New York related. With illustrations of the Times Square subway sign, yellow taxis and the city's skyline inside a big red apple, it was impossible to miss. 
The Maybelline pop-up was officially open from 10 a.m. to 4 p.m. but already had a line of students formed over an hour before.
Madalynn Silva, a first year child and family development major, and her friends found their spot in line early that morning.
"We have been waiting since 9:20 this morning," Silva said. "It's worth it. I have a few Maybelline products, but I'm excited to get new shades of the lip gloss. I have the clear shade they are giving and I really like it."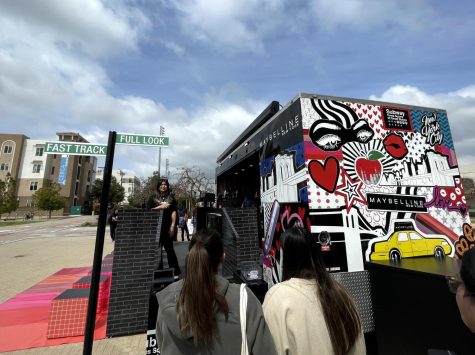 Before entering the pop-up, each student is given the option of between the fast track choice or a full look experience. If you happen to be short on time or are about to miss a class, then the fast track is ideal. A Maybelline assistant provides a quick highlight tour and shows a few of the brand's favorite products. While the fast track eliminates the lengthy wait in line, it also means only receiving a free lipstick rather than the makeup bag of multiple full size products. 
The full look option, however, was definitely a full experience. Each person has their own "Full Look Pass" to wear, adding to the grandiosity of the event. Inside, sections were dedicated to their best-loved products including the Sky High Mascara, the Super Stay Lipstick and a beauty bar with the Cheek Heat Gel-Cream Blush. 
Maybelline just launched a global initiative in support of anyone experiencing anxiety and depression. With The Maybelline Press Play College Campus Tour, the "Brave Together" campaign has been a highlight for each university. The Maybelline team was set on urging college students to scan a QR code that was full of tools and resources to help navigate mental health.  
Maybelline also encouraged everyone who walked through to match their individual skin tone and texture to a shade of Fit Me foundation. An additional QR code was available to scan and, after a quick quiz, you instantly received personalized results. There was also an opportunity to "Spin Your Shade" for the chance to win an extra makeup item if you landed on your shade. The Maybelline assistants were there to support visitors with the process of finding their best fit, making the experience easy and effortless.
Before leaving the pop-up shop, Maybelline was sure to gift each person a custom clear makeup pouch with full size goodies containing a mascara and mascara primer, sticker, a lipstick with a choice of a gloss and a 20% off coupon in partnership with Target. 
The beauty world has a known inclusivity problem with the overwhelming lack of diversity within brands, so it becomes difficult for people to find their perfect match with products. Most college students, especially, are just beginning their journey into the realm of makeup but Fenty Beauty and Maybelline are coming to the rescue.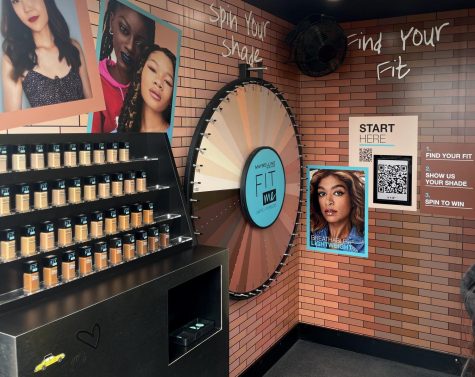 With Fenty Beauty's launch of shades essentially matching every skin tone, the "Fenty Effect" has since inspired an overdue shift within the makeup industry. Maybelline, now, has 40 extensive shades of foundation in their Fit Me collection at affordable prices. 
Fenty Beauty and Maybelline are both recognizable brands that are applauded for not only their shade diversity, but the universality of all their products. 
SDSU was only one out of the four schools Fenty Beauty and five schools Maybelline stopped at throughout their tour, and to bring this inclusivity to a college campus was thrilling, joyous and very much needed for students.