SDSU women's lacrosse secures a Senior Night victory against Arizona State
Ten seniors, who contributed mightily in the game against the Sun Devils, were honored before their last home game of the season
It has been a tough past three games for the San Diego State Women's Lacrosse team (6-9), who were outscored 15-39 and had a 52% draw control percentage. The tough three-game stretch eliminated the Aztecs from attaining a .500 record this season.
Despite the rough patch, SDSU looked to end its losing streak with a win against Pac-12 opponent the Arizona State Sun Devils (4-11), who came into the game on a two-game losing streak. The Aztecs are 2-4 overall against the Sun Devils and looked to take advantage of a struggling team to improve to a 2-2 record against Pac-12 competition this season.
The Aztecs played with intensity, speed and the graduating seniors stepped up in a big way as SDSU secured a 15-12 win in the last home game of the season.
"They all played phenomenal, I mean, everyone really was flying tonight," head coach Kylee White said. "We have 10 seniors and they were all contributing in every aspect of the field and they felt the love of their teammates all week. Extremely happy to get that win, especially for our seniors on Senior Night."
With a Senior Night pregame celebration comes excitement, and that is what the Aztecs brought after the opening draw.
Graduating senior midfielder Cailin Young buried the first two goals, followed by junior attacker Sara Toner scoring the third goal.
The Sun Devils had trouble on their first few offensive possessions but finally capitalized at the 5:29 mark with graduate midfielder Kaylon Buckner's goal.
SDSU went back to work on offense and were successful. Sophomore midfielder Emma Betts scored, then graduating senior attacker Sydney Wolfington set up graduating senior attacker Deanna Balsama who buried a goal, making it 5-1 and forcing ASU to call a timeout.
After the timeout, the Aztecs maintained a draw control, went back on offense and Wolfington set up Balsama again as she scored to make it 6-1.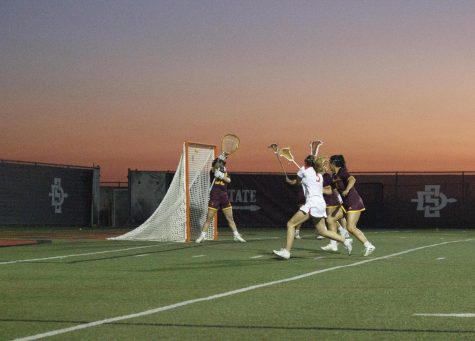 ASU sophomore midfielder Berit Brookfield made it 6-2 before the end of the first period, which paved the way for an early strike in the second period with freshman attacker Teagan Ng's goal.
Although the Sun Devils brought some early offensive pressure on the Aztec defense, the SDSU offense kept producing. Graduating senior attacker Caitlin Jones made it 7-3 with her goal, then after ASU sophomore attacker Tate Stokesberry buried a goal past graduating senior goalie Sam Horan, the Aztecs put in two goals to make it 9-4.
The Sun Devils tried to keep the game within reach by making it a four-goal game with ASU graduate attacker Greta Stahl's goal. Then, SDSU and ASU traded goals by the end of the half and the score was 10-6.
The Aztecs started the third period like they started the first, with that Senior Night energy. SDSU scored three-straight goals courtesy of two goals by Jones and one by Young.
ASU's Stokesberry halted the Aztecs' run with her third goal of the game to make it 13-7.
Buckner's goal, which made it 13-8, tried to fuel momentum towards ASU, but failed. Wolfington made it 14-8 with a free position goal and gave the Aztecs a comfortable lead with 3:03 remaining in the third.
ASU sophomore midfielder Annie Haley made it 14-9 with her goal in the dying seconds of the third period.
Both goalies were stellar in goal in the early stages of the fourth period, making big saves, but then both teams started to break down the brick walls.
After Jones put in her fifth goal of the game on a free position attempt, ASU gained an urgency to score.
The Sun Devils started to take over offensively in the late stages of the match with two goals by Stahl and one by Stokesberry, cutting the Aztec lead to three and forcing White to call a timeout.
"ASU definitely picked it up way more than they were in the beginning," Young said. "And it was not super clean the whole game like all over the field, but we just had to keep grinding it out."
"Grinding it out" is exactly what they did. Horan made a big save late and the Aztecs did not let the Sun Devils get any more good chances. SDSU secured a 15-12 Senior Night victory and maintained an above .500 record at home this season.
It was a truly remarkable performance for the graduating seniors, who scored 12 of the 15 Aztec goals in the game (five by Jones, three by Young, two by Balsama and two by Wolfington).
Graduating senior defender Hayley Anderson, who played well defensively and handled the ball up field efficiently most of the game, talked about what fueled her success in the game.
"I think like 'Friday night under the lights', gets everyone a little bit excited," Anderson joked. "I will say we have been practicing drilling us defenders running up the field. So, I got lots of confidence from practice."
Despite there being one more game to go, ten truly irreplaceable seniors will be departing from the team in a little over a week. Young and Anderson were asked to reflect on their time with the program.
"That is just a loaded question," Young said. "It is just all about the people, all about my friends. This team has truly been the most remarkable group of people I have ever encountered in my whole entire life."
Anderson uttered the same feelings Young had.
"I think you would not know our record based on how we are together and how we act around each other," Anderson said. "Win or lose, we are always best friends and always there for each other. I think it was just super special."  
The Aztecs finish their season with a match-up against University of California, Davis (7-6) in Davis, California on April 29.