With finals approaching, managing academics, extracurricular activities and careers all at once may be a lot for college students as the spring 2023 semester concludes. 
In consideration of adding mental health into the equation, balancing these common activities in most San Diego State University students' lives can make college life a little bit more complex — depending on one's circumstances.
One SDSU chapter, however, looks forward to reshaping the stigmas of attending four-year institutions by starting a conversation about a subject they are not shy of addressing: mental health amongst college students.
"One of the stigmas is just reflecting on how students have to manage their mental health in order to fit this grind culture. Because so often, the grind culture — getting straight A's or being super involved on campus — often comes with the consequence of not being able to balance managing your mental health and taking care of yourself," said Kassidy Tolbert, a senior psychology major and co-president of SDSU Active Minds. 
"And so, part of our mission is to create a space for students to focus on that aspect so (students) are able to do their best in school and feel supported."
SDSU Active Minds is a student-led organization whose mission is to destigmatize the conversation of mental health on college campuses by creating outreach for individuals. 
Through outreach, SDSU Active Minds aims to offer resources and a discussion on various topics by addressing difficult, yet important conversations within mental health. 
"We have to get uncomfortable before we get comfortable, and we advocate that (message) for anyone who stops by Active Minds — whether it is through meetings, tabling or social media," said Naomi Sánchez, a senior psychology major and co-president of SDSU Active Minds.
One of the most prevalent, recognized event SDSU Active Minds has hosted is the annual suicide awareness prevention outreach.
Members of SDSU Active Minds participate in a required two-week training to come equipped with knowledge and resources to answer questions from those about suicide awareness.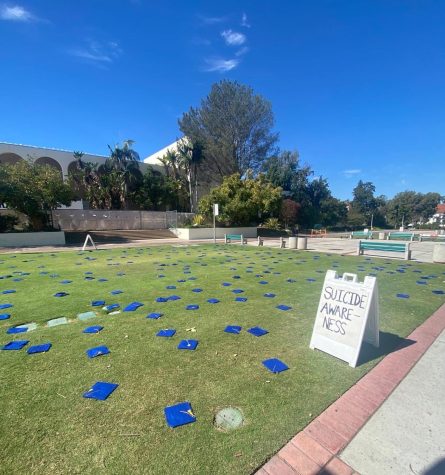 The outreach consists of two parts: in the morning, SDSU Active Minds members gather graduation caps across Campanile Walkway, representing the lives of college students lost to suicide. The second part of the suicide awareness prevention outreach occurs at night, in which members pay further tribute.
"We do our vigil, which is to help people find the light in life and (the commemoration is) helping to show them that 'hey, there are people who care for you,'" Sánchez said. "There are people who want you in this world, (who) care about you and want you to get the resources and help."
According to the American Association of Suicidology, an organization that promotes advocacy for suicide prevention, "suicide is the 10th-leading cause of death in the United States." And it is the "second-leading cause of death for 15-24-year-olds."
Sánchez, who was involved in SDSU Active Minds during the COVID-19 pandemic, said the organization brought in new members and discussions are often revisited due to their prevalence in society. 
Other events facilitated by SDSU Active Minds explore the topics of body positivity, psychological well-being in men and mental health awareness in marginalized communities. The organization aims to have new conversations for its outreaches as mental health services continue to evolve, according to members.
A new strategy implemented this year by the organization is to provide a voice for students who wish to remain anonymous by having them bring forward questions, topics and personal concerns.
SDSU Active Minds — serving as an entryway to the resources offered at the Calpulli Center — were able to gain more insight into individual students' circumstances.
"Just opening up that discussion has been really helpful. We have had great conversations about how things have gotten better and where things need to get better," Tolbert said. "Active Minds works closely with the counseling center on campus. So we're able to vocalize those concerns and bring them to help the counseling center evolve, become accessible and diverse as possible for all students in our population."
Having the opportunity to empower students by destigmatizing the subject of mental health by engaging in conversations with her peers means a lot to Megan Korhummel, a senior psychology major and SDSU's Active Minds vice president.
"(Empowering students) has been one of the greatest things about Active Minds. We have created an environment to support and collaborate with each other, most commonly surrounding mental health topics," Korhummel said. "It has been an amazing experience to be able to build a community where everyone is passionate about reducing the stigma around mental health. We all share our opinions or experiences, and everyone is accepting of one another."
Outside of advocating for others, members take into account their own mental health while managing academics and being leaders on campus. For Sánchez, a first-generation commuter student, finding a sense of belonging in the SDSU community helped her navigate through her college career.
Outgoing SDSU Active Minds members expressed hope for the organization's future and its upcoming 2023-2024 executive board, aiding the ongoing conversation about destigmatizing mental health.
"I think that if anyone is looking for a safe space to advocate for their own mental health, (SDSU Active Minds) is a great way to connect with people who are passionate about the same things and actually want to talk about mental health," Tolbert said. "(SDSU Active Minds) is a hidden gem on our campus (and) I hope more people will look into it and become involved."
For more information regarding future events at the organization, visit SDSU Active Minds' social media. 
If you, a friend or a loved one is experiencing a mental crisis, please call the Suicide and Crisis Lifeline at 988 for free, confidential emotional support available 24 hours a day, seven days a week.