On a sunny Wednesday afternoon, a crowd of people congregate around Newport Avenue and the edges of Ocean Beach.
Sprawled around, vendors are selling everything from East African cuisine to homemade spiritual necklaces. A blended aroma of grilled food and saltwater coat the air, tied together by chatter of beachgoers and groovy music. 
But In the midst of the festivities, one man manages to both stick out and blend in perfectly.
For over a year, Orion McAllister, 28, has wandered around the Ocean Beach Farmers Market holding up a new cardboard sign each week with words of love, affirmation and spirituality. 
"I want people to relate. I want people to see what I have to say," McAllister said. "I figured the best thing to do was get a sign and spread it out there." 
To the average market-goer, one glance at Orion — dressed in a red monk's robe, a heart-imprinted dashiki, decorative rings and a pair of heart-shaped sunglasses — might lead them to assume he's a hippie, an image commonly associated with the anti-war, love and drug-fueled counterculture that rocked the 1960s.
While McAllister openly embraces that era's colorful fashion and anti-establishment politics, it's his loving aura that draws people in. 
As he walks around the market, people go up to him for hugs, selfies and all sorts of conversations. His signs are usually met with strong words of encouragement, and the occasional Jesus comparison. Different vendors greet him by name, with one giving him a free sample of freshly baked bread every Wednesday. 
"It's been an honor to be accepted and to know that I'm anticipated here, and know that despite any sort of doubts or insecurities that I may have, that I'm having an impact," McAllister said. "It's intense to see it grow every week." 
McAllister lives in El Cajon, working as an overnight stocker at Sprouts. He requests to take time off on Wednesdays so he can go to Ocean Beach. He said coming there is the best part of the week.
"It's like a modern day hippie town," McAllister said. "There's so much self-creativity around here and just unique characters and a lot of good, friendly vibes. It's a very unique experience." 
Once he gets to the farmers market, he heads down to The Black, a smoke shop and department store. After that, he goes into the backroom to change into his outfit and write out his sign for the week. His sign, at that time, read "Week #55. Inner Peace is yours to find. Be kind to your mind. You are loved!"
On Saturdays, McAllister plays drums with his psychedelic rock band "Soul Frequency" at Veterans Park. The band features Andy Sanchez on keyboard, Mathata De La Tiera on bass, Erik Otema on guitar and McAllister on drums. The group regularly improvises long riffs back and forth, right on the grass.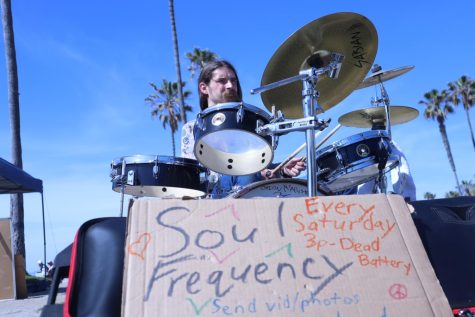 "It feels liberating playing with Orion," De La Tierra said. "I'm really grateful to be able to support someone who has the dedication for decades to follow his passion for drums." 
McAllister has gained a reputation in the Ocean Beach community. At Veteran's Park, a man who goes by "Joyful" sells homemade sages right by the ocean. Like many vendors, he's gotten to know McAllister and has grown fond of his views on life.
"They're very beautiful and articulate," Joyful said. "(McAllister) knows what he wants to do and he's going for it. He has my respect and I love the brother."
McAllister's views, however, evolved from a troubled upbringing. 
Born in Upstate New York, McAllister's childhood was filled with turbulence and toxicity, a far cry from his peaceful personality. Separated while he was young, McAllister's parents struggled with addiction and aggression. His father was a drug dealer, often leaving McAllister at family friends' houses for months on end to complete drug deals. 
McAllister's dad became neo-Nazi while in prison. After his release, McAllister recalls his dad briefly taking him to meetings as a young kid. Bouncing back between his father and family friends, McAllister was eventually put in a group home. His grandma then raised him in the later half of his young adult life.
"I never really had a consistent childhood," McAllister said. "I kind of had to grow up really fast in the environment I had to grow up in, and just learn from a lot of the chaos and try to cultivate peace within myself and my own environments."
Despite his traumatic childhood, McAllister holds a strong love for his family, saying they did everything they could to provide for him. 
When his father saw how his beliefs were affecting McAllister, he soon abandoned his hateful ideology. Both parents as well overcame their addictions, celebrating over 15 years of sobriety and living life with more stability. 
A childhood that tough would lead many to spiral, furthering the cycle of generational trauma. But McAllister describes his past with a stunning level of introspection and sympathy. His soothing cadence and welcoming demeanor show no residing crumbs of hatred nor pain. 
When speaking to him, his deep eyes and thoughtful answers make you feel at the center of his universe, a practice he refers to as "momentary awareness."
"It's my own spiritual path and journey of self acceptance, as well as external reminders," McAllister said when asked about the signs he makes. "We all go through hard times in life, and for myself, learning not to grow bitter and learning everything I can to be better. I've learned I'm not alone in this world, so it's good to remind others that they're not as well."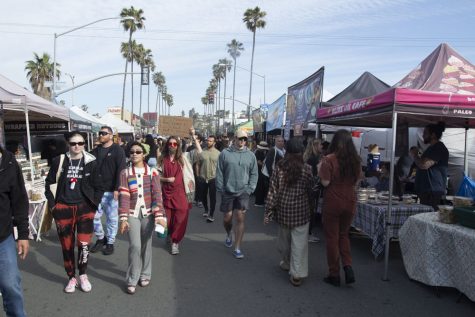 McAllister's worldview pulls from the teachings of Alan Watts, Ram Dass and Eckhart Tolle among others. McAllister also enjoyed reading about ancient cultures and Greek philosophers, citing Plato's Cave as a meaningful allegory for adapting to new patterns of thinking. To McAllister, these philosophers and spiritual leaders taught him to "always question yourself." 
McAllister described a time where a lady came up to him during his Wednesday routine. Reading his sign, she claimed that his message did not apply to her. After a long and deep conversation, McAllister was able to break through to her.
"She completely switched her mind," he said. "She completely changed her perspective, and I could see the light in her eyes completely change and brighten and turn on. Throughout the rest of the night, she was cheering me on and just having a really good time."
Personal identity can seem impossible to define. The environment we grow up in, the people we hang out with and the challenges we face can present a false construct for ourselves, smothering inner growth.
This perpetuates the idea that identity is restricted to a handful of experiences, subjective perceptions and aesthetics, shoveling you through life with no control. But Orion McAllister proves that through self-acceptance, open mindedness and present awareness, you can forge your own narrative. 
"At the end of the day, everybody has a different version of who you are in their own head," McAllister said. "So I carry that around with me and I just express myself freely, knowing that the people who resonate with it will gravitate towards it. And those who don't, well that's ok, I love them too."