Manning the runway in high heels and a bright pink outfit is not easy, but Keiana Foster, a senior psychology major and honors interdisciplinary studies minor, made it possible by organizing the first San Diego State University Black Fashion Week Show. 
The doors to Montezuma Hall opened March 17, sparking two and a half hours of runway looks from SDSU students and former alums. Foster, the event's founder, spent months working on a show that uplifts black voices and shows how versatile the black body can be through fashion. 
Some fashion themes included African cultural clothing, 90s aesthetics and freestyle for every model to dress how they liked. Six designers' personalities shined through their spiky earmuffs or iconic streetwear. The looks were carefully curated for each model and highlighted every single person to show off their natural beauty. 
Jordan Washington, a second-year English major, was ecstatic to attend the show.
"I really admire the fashion looks I've seen from backstage," Washington said. "Keiana (Foster) has been very driven to make this entire event work."
Foster spoke highly about how proud she was of everyone participating and the support she had received from the SDSU community. She had put much thought into her dream by pooling finances and saving up funds, allowing her the freedom to create a runway, invite a guest speaker, and create a high-end atmosphere.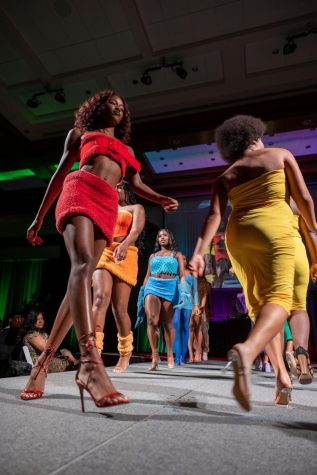 Guest speaker and producer DeMira Pierre, a YouTube creator with over 7 million combined views on her series "Supreme Models," spoke after the audience viewed a ten-minute clip of her work. Pierre has a vast knowledge of the fashion industry and promotes diverse beauty through her art. She ended her speech with the message to "create fearlessly, create passionately."
Foster eased the audience into the program, and many agreed the show was more than an event, but a true production, something Foster quoted in her introduction speech.
Madison Reaves, a first-year speech, language and hearing sciences major, said she recognized many models in the show and would return for future shows. 
"I also love fashion, so I was pretty excited," Reaves said. 
Some of the more popular looks among attendees were the experimental and freestyle themes. Each designer had their own mark on making the style uniquely theirs, from legwarmers to altering shirts to showcase different ensembles. The freestyle theme received much applause, as each model was paired with another and given the opportunity to represent themselves through chosen outfits and music. The unique touch gave a sense of personality to the entire show.  
Praise was heard through the spacious hall and many couldn't keep their eyes off the models. Attendees brought flowers for those who participated, which brought a lighthearted vibe that put the fashion show in a good light.
Editor's Note: At the time this article was written, it was stated that Keiana Foster was a second-year psychology student. However, Foster was a graduating senior studying psychology, along with a honors minor in interdisciplinary studies. The Daily Aztec regrets this error.