Live-action "Barbie" is finally on the big screens for everyone to enjoy. It's the gloriously vibrant, extraordinarily inspiring celebration of womanhood and life you would expect it to be.
Teaser trailers gave us only a small taste of what to expect in this movie but it gave us just enough insight for our curiosities and imagination to fly in a hundred different directions. 
Barbie's entrance into the real world allowed me to re-enter the childhood fantasy I once lived in. The little girl who used Barbies to imagine a world in which I could be anyone, and do anything, would be a giggling, giddy mess if she watched this movie. In fact — at the ripe age of 20 — I still was. 
The movie is centered around the stereotypical version of Barbie (Margot Robbie), who lives a picture-perfect life in Barbie Land. 
When Barbie admits to having thoughts about death and starts experiencing unusual things in her typically unblemished life, such as bad breath, flat feet and cellulite, she's eager to discover the cause of her flaws. 
Searching to find answers, it is revealed that everything going wrong in her once-perfect life is connected to a child who plays with her in the real world. And the only way for Barbie to fix her troubles is to venture into the real world, the "country of Los Angeles," to find the girl who plays with her. 
Ken (Ryan Gosling) accompanies Barbie to the real world. While Ken is with her, he gains a new and troubling perspective about his identity and patriarchy, causing him to decide to wreak havoc in Barbie Land.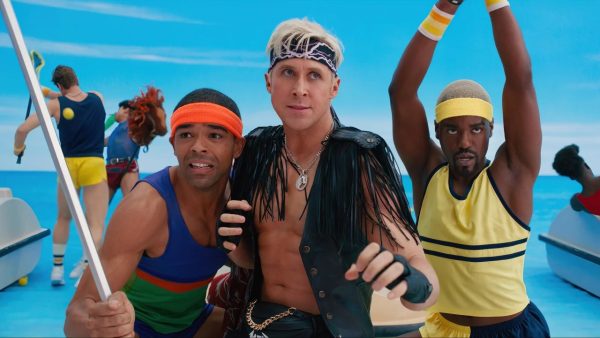 "Barbie" introduces themes of sexualization, capitalism, patriarchy, womanhood and identity.
These themes bring the inspiring and nostalgic side of Barbie that we know, while simultaneously addressing the controversy Barbie has historically been involved in, such as making women feel self-conscious of their image. Nevertheless, the main reason for Barbie's creation is to inspire.  
Greta Gerwig finely crafted this movie to cater to all audiences — it's effortlessly hilarious and has a child-like whimsical wonder, while also adding in a couple of innuendos to keep adults laughing.
The casting decisions for the film could not have been better. Not only does Robbie encapsulate the classic Barbie look to a tee, but she also nails the pretty-in-pink happy-go-lucky energy we naturally imagine Barbie has. 
Gosling also knocks the ball out of the park with his stellar performance. The way Gosling presents Ken as he falls into a pit of hypermasculinity — while also maintaining a childlike personality — adds a lighthearted twist to complex topics.    
Other performances from Will Ferrell, America Ferrera, Ariana Greenblatt and Issa Rae allow the vibrancy in this movie to shine brighter than it already does. "Barbie" also had a stellar, yet unique soundtrack, featuring artists like Nicki Minaj, PinkPantheress, Dua Lipa and Charli XCX.
A side performance and general concept that particularly stood out to me was Kate McKinnon, who played Weird Barbie. 
For context, this character becomes Weird Barbie when the child "plays with her too hard," circulating back to relatability for those who played with dolls when growing up. We all know someone who used to draw on their toys and cut their Barbie's hair… this one's for you. The quirky Barbie, who was seemingly self-exiled on the outskirts of Barbie Land, had the audience laughing with her eccentric movements and dialogue. 
Those familiar with the history of Barbie will also love the detail that was put into the set and costume design in this movie.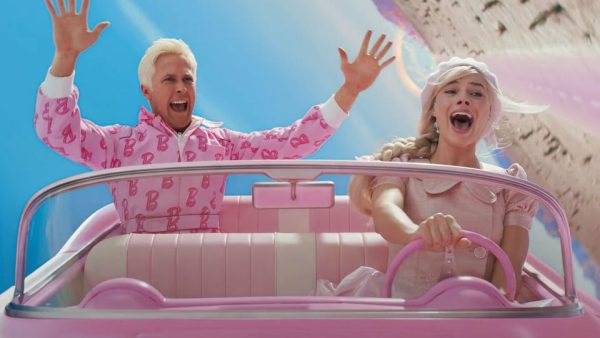 Not only is the set aesthetically gorgeous and nostalgic upon first glance, but its detail hilariously reminds us of the actual Barbie Dreamhouses. At one point in the film, Barbie opens the fridge to reveal a fake, sticker-like interior — just like what we would have seen as a kid. Other nostalgic scenes include one where Barbie showers; she simply stands under an empty faucet with no water. 
Original Barbie characters are either acted or mentioned, such as Skipper, Alan and Midge. To pay further homage to the franchise, there are even accessories and clothing pieces featured in "Barbie" that you might recognize from your own Barbie collection. Remember the Barbie dog that could go to the bathroom? Yep… even he makes an appearance.
The creator of Barbie, Ruth Handler (Rhea Perlman), even makes an appearance. Handler interacts with her own creation, having an emotional and inspiring conversation with a distraught, identity-stripped Barbie about what she was made to do: inspire. 
While "Barbie" is nostalgic in many ways, it's a feminist-coded movie that aims to uplift and inspire women to believe in themselves. 
It aims to show people that they need to discover who they are through themselves, rather than finding their purpose in other people.
"Barbie" is an ode to womanhood, and a celebration of what makes every human being special in their own way. This film will inspire viewers to pave their own road in the life that they choose.
So to the main question: stream or skip? This is a definite stream. Five kens out of five! It's the movie of the summer (if not of the year) that will hug the Barbie-loving, imaginative child inside of you.