San Diego State women's soccer team lost 3-0 against Long Beach State on Sunday night as they closed down their four-home game stretch at SDSU Sports Deck.
"It was a really difficult game for us… I thought it was probably one of our least active performances," said Aztecs head coach Mike Friesen. "I thought we created some chances throughout the game, but it was a really difficult game for us."
SDSU (2-1-1) had previously played to a 1-1 draw with Pepperdine on Thursday night. The Aztecs opened the season and won against Sacred Heart University 2-0 on Aug. 17, and then won against UTEP 2-1 on Aug. 20.
The game started off slow with neither team scoring until forward Kassandra Deja scored for Long Beach State (2-2-1) in the 25th minute to put SDSU behind 1-0 at halftime.
In the second half, Long Beach State scored twice: once in the 67th minute — Ceja again — and then forward Summer Laskey in the 87th minute. SDSU tried to keep up, with times when the Aztecs almost scored, but couldn't finish.
The referee's whistle got a workout in response to the physicality in the match as SDSU committed 10 fouls while Long Beach committed nine fouls. Additionally, both teams combined to earn four yellow cards: three for Long Beach State and one for SDSU.
SDSU had to work offensively with 13 attempted shots while Long Beach State shot 18 times. Goalkeeper Alexa Madueno battled all night and finished with seven saves.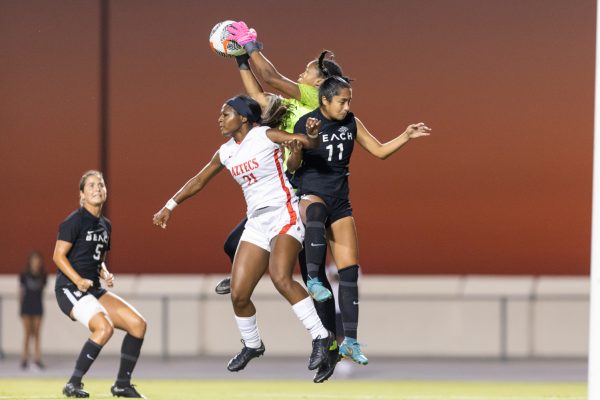 Friesen mentioned how the non-conference games will help the Aztecs see what they need to work on once the Mountain West Conference starts.
"Just having different opponents who are quality that expose some of the things we aren't good at… I thought that we got outplayed in a lot of facets of the game, which is not normal for us," Friesen said. "The consistency of our performances got to be better and because of things we're going to have to be really good at going towards the conference."
The Aztecs will be playing their next three games on the road, beginning at Washington State on Thursday, Aug. 31 at 7 p.m. and then at Eastern Washington on Sunday, Sept. 3 at noon. SDSU will finish its trip at UC San Diego on Thursday, Sept. 7 at 7 p.m.
"My message to them at the end of the game was we have to be introspective in terms of 'what did we not do well today that led us to this performance?'" Friesen said. "So each of us — coaches, staff, players, everybody included — has to be able to look at how we performed tonight, what we need to do to change that kind of performance to get better."
SDSU's next home game will be Thursday, Sept. 14 when they play against the University of San Diego at 7 p.m. at Snapdragon Stadium.