San Diego State defender Lorenzo Hernandez imagined his first NCAA goal would come thanks to his speed.
Instead, it came via a gutty run into a crowded penalty box on a second chance opportunity off a corner kick, as the Aztecs (1-0-1) knocked off the Cal State Bakersfield Roadrunners 1-0 on Monday night at the SDSU Sports Deck.
"I thought it would be like a breakaway or like a sprint because that's kind of what I'm good at," said redshirt freshman Hernandez. "But I had Reid (Fisher) dummy the ball, it just came right to my feet and just put it in, but it was just a great goal."
On a night where the teams combined for nearly as many yellow cards (five) as shots on goal (six), it was the kind of goal which seemed fitting for the frequently chippy and occasionally over-the-top physical play. The teams were called for 30 fouls combined, with the visitors being whistled 16 times.
"I think our team can play in a lot of different ways," said head coach Ryan Hopkins. "We wanted to construct the roster with the eye to our conference. There's a lot of different styles in our conference, and then, we try to construct the non conference schedules similar."
The winner came in the 82nd minute on the Aztecs' eighth, and final, corner of the match.
CSU Bakersfield (0-1-1) was unable to clear the initial delivery, then midfielder Jules Anderson played it to forward Austin Brummett on the right side of the box. Brummett squared it toward the area, which Fisher dummied through to Hernandez for the finish.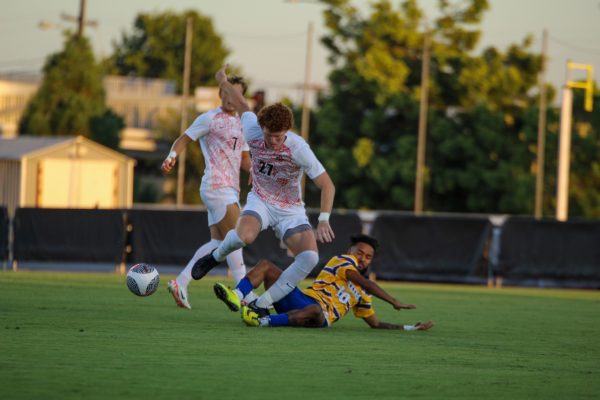 "I challenged the guys at half time," Hopkins said. "I just said 'who's going to be the guy that's going to run past their guy and score the goal?' And Lorenzo stepped up like he did in the preseason game and was able to win the game."
After a slow start, SDSU locked it down in their defensive third, as the Roadrunners were unable to direct any shots on goal after the 25th minute. Goalkeeper Logan Erb made two saves in his first start of the season. He was a 75th minute substitute in SDSU's 0-0 draw at Denver on Aug. 24.
"I think it was just about trusting the game plan and figuring out what we need to do to stop that," Fisher said. "I think after the first 20 minutes, we really kind of set our game plan into place and started creating a lot of key chances because of it as the game went on."
This win opens the longest homestand in program history, as the Aztecs will host eight straight matches at the Sports Deck from Aug. 28 to Oct. 1.
"We're still figuring each other out, I think that's clear, clear, clear from the game," Hopkins said. "But, I think we can continue to win while we're figuring ourselves out. That's a sign of a really good team."
Up next is Cal Poly, who opened the season with a 5-3 home loss in San Luis Obispo to Oral Roberts on Monday night.
Kickoff between the Aztecs and Mustangs is slated for 7 p.m. on Friday, Sept. 1 at the Sports Deck.