San Diego State University's drag performance club took to Montezuma Hall for an evening of lively cheering and death-dropping. 
As Aztec Nights are back in session for this fall semester, Drag@SDSU has also returned to the campus stage, showcasing the "Dragstravaganza: Halftime" show to an enthusiastic audience on Sept. 1.
The energy was high at Dragstravaganza: Halftime as attendees chatted excitedly while waiting to enter. 
Inside, students found tables for SDSU's Pride Center and San Diego Pride, highlighting community events and resources available to the LGBTQ+ community. Students could pick up free snacks and drinks, as well as glowing LED light accessories to help them cheer on the performers.  
The event brought returning and new attendees, like Emmeline Sutliff and Amelia Grabinski, both third-year students who are fans of drag.
Sutliff learned about Drag@SDSU through their work in the Pride Center, where they were encouraged to attend events and support the club. 
"I've been to a couple drag shows here before, and I've always loved them," Sutliff said. "The performers are great, very energetic. You can tell that they really love what they're doing." 
Grabinski became a fan of Drag@SDSU when Sutliff took them to a previous show. 
"We went to all the Aztec Nights freshman year… This was like the only one we've gone to outside of (that). (Dragstravaganza: Halftime is)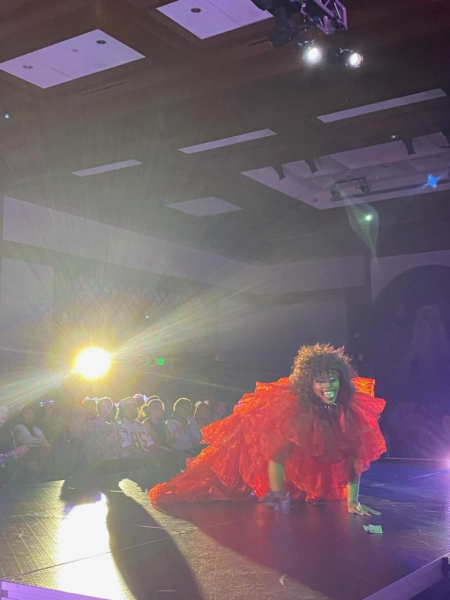 the best part (of Aztec Nights)."
Dragstravaganza: Halftime featured 12 student performers from Drag@SDSU, as well as three professional performers from the San Diego drag community. Hosts Luxe the Drag Queen and Amber St. James conducted the show with high energy and enthusiasm. 
According to Luxe the Drag Queen, the "Halftime" theme of the show came from the club "trying something new." Each performer came up with an act that was inspired by a football halftime show performance and gave a longer number, which is different from a typical drag show. 
The theme also introduced an element of competition to the show as performers were split into two teams: Team Amber (led by Amber St. James) and Team Gourdulicious (led by Luxe the Drag Queen). Members of each group gave their performances, and at the end of the show, the audience voted for the team that performed best through cheers and applause.
The show included elements of humor and levity, with Luxe the Drag Queen and Amber St. James trading jokes and banter — which is typical of a drag show — while hosting the evening. One performer, Jordan Almond, included funny audio and video clips in their performance. 
There were also more serious moments that discussed important topics. In the beginning of the show, Amber St. James and Luxe the Drag Queen touched on freedom of expression and the recent attacks made on drag by lawmakers. The hosts motioned for the crowd to chant "Drag is not a crime" and encouraged the audience to go to the polls for the 2024 election. 
Some of the performers later on in the show would keep the important messages, like Lady Blanca, who touched on anti-transgender violence, and Amber St. James, who brought messages of Black liberation. At another point, a representative from San Diego Pride came on stage to promote upcoming pride events, with the hosts encouraging the audience to get involved in their community. 
The show also included audience participation. Shawn Swindell, a third-year student, won the "Wig in a Box," a game where audience members select a wig and perform a spontaneous drag routine. 
Swindell pulled on a short, brown wig and danced to Carly Jay Repsen's "Call Me Maybe," winning the game by audience applause. For his performance, Swindell won a free trip with SDSU Go! 
"Winning 'Wig in a Box' was my second favorite part of the night," Swindell said. "First being Amber St. James' performance." 
After the performances were finished, it was time for the audience to pick their favorite performance team. By volume of cheers and applause, Team Amber was declared winner of the night. 
For upcoming events this fall featuring Drag@SDSU, visit their Instagram and website for more information.