A multi-year tuition increase at California State Universities is being proposed for all students across the system's 23 campuses.
If approved by the CSU Board of Trustees at their Sept. 13 meeting, the tuition spike (growing at 6% annually for all levels of education) will go into effect during the 2024-2025 academic year, beginning at the start of the fall semester. 
The proposal would generate $148 million of new revenue in the first year, and with that amount, the CSUs would increase student financial aid — one of the top expenditures  — by $49 million.
Led by Steve Relyea, CSU executive vice chancellor and chief financial officer, and Ryan Storm, CSU assistant vice chancellor for budget, officials met virtually with student media on Sept. 6 to discuss the proposed tuition. 
Relyea opened the presentation, giving context to the reasoning behind the proposal, which was based on Interim Chancellor Jolene Koester's sustainable financial model.
According to Relyea, Koester created a sustainable financial model last year that included diverse university titles, consisting of students, faculty, presidents and more. 
Having unique backgrounds within the model allowed Koester and her group to develop a multi-year strategy to achieve stable, predictable revenues to support universities and students.
"After nine months, the work group found that costs exceeded the amounts that were expended, creating an expenditure gap," Relyea said. "(And) when compared with university revenues, there is a significant funding gap." 
Further, Koester's work group determined that the multi-year compact commitment by Gov. Gavin Newsom's administration would not be enough to meet the CSU's funding needs. 
According to Storm, there has been a 40-year inconsistency surrounding CSU tuition, with some factors relating to economic recessions and state budgeting that led to no tuition increases. 
The CSU's decision to not increase tuition in the past 11 years has prevented universities from having essential resources to keep up with rising costs, according to Relyea.
"It will require many years of careful financial planning to improve our current circumstances. A recommendation of the sustainable financial model work group was to raise tuition rates," Relyea said. "(And) springing from that recommendation, the chancellor's office developed a multi-year tuition proposal to address financial needs, cost pressures and invest in key expenditure priorities."
Some budget priorities include allocating resources to the State University Grant Program (SUG), mental health services, infrastructure for new facilities and compensation to maintain outstanding faculty and staff members.
During the Sept. 6 meeting, a pie chart was showcased on how undergraduate tuition is paid at CSUs, with reference to supporting financial aid and Cal Grant Programs.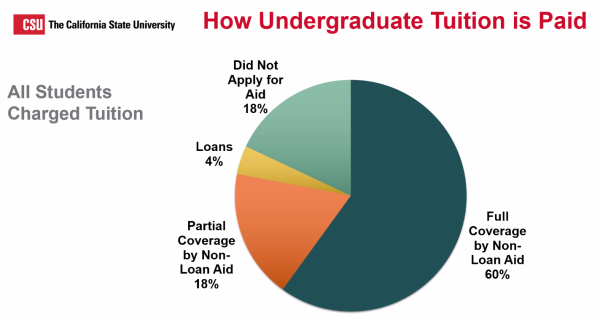 According to the chart, 60% of individuals receive full coverage by non-loan aid. Eighteen percent received partial coverage by non-loan aid whereas 18% did not apply for aid. The lowest category on undergraduate tuition payment stands at 4% in which individuals paid for their schooling with student loans.
"By adopting the tuition proposal, the board would be choosing to maintain this large 60% portion of students that receive full coverage that would, otherwise, be shifted to the (18%) partial coverage group," Storm said. "If the board did not make a commitment to dedicating some of the revenue to the State University grant program, that choice would put financial aid as the CSU's first and top expenditure priority over all other expenditures."
Alongside the proposed increase, there is also a plan to introduce a companion item: a revised tuition policy that includes a requirement for an assessment of the effects of a tuition rate increase on universities and students.
"Those findings of that assessment will be reported to the board and the board will determine whether to change rates for the '29-30 academic year and beyond," Storm said.
The aftermath of the Sept. 6 meeting garnered the attention of San Diego State University's Associated Students, who shared a social media post in response to the proposed tuition increase.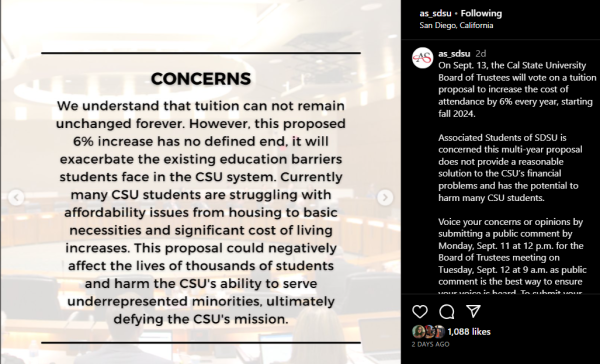 "We understand that tuition can not remain unchanged forever. However, this proposed 6% increase has no defined end, it will exacerbate the existing education barriers students face in the CSU system," the organization said in an Instagram post. "Currently, many CSU students are struggling with affordability issues from housing to basic necessities and significant cost of living increases."
Further in the post, A.S. noted how the proposal would "harm" CSU's ability to serve underrepresented students, defying the Cal States' mission. 
If approved, tuition for full-time undergraduates will increase by $342 per student at the start of the fall 2024 semester. However, the suggested 6% increase varies for graduates and students who plan on earning their teaching credentials.
Tuition rates for graduates will increase by $432, whereas the cost for those earning their teaching credential stands at $402 per student if the CSU multi-year tuition is approved by the Board of Trustees at the Sept. 13 meeting.
In its Instagram caption, A.S. calls for students to voice their opinions by submitting a public comment by noon on Monday, Sept. 11, prior to the Board of Trustees meeting on Tuesday, Sept. 12 at 9 a.m.
Members of the public can attend the Board of Trustees meeting online and in-person at the Dumke Auditorium at the Office of the Chancellor in Long Beach. For online attendees, the meeting will be live-streamed on the Board of Trustees' website.