Within a monastery, Tibetan monks methodically arrange grains of sand to craft a mandala. This moment is depicted in Qinzhe "Lawrence" Cai's photograph, "Monks Creating Mandala." 
The photo is among many in Cai's exhibit at San Diego State University's Chinese Cultural Center at room 130 in the college of Professional Studies and Fine Arts. The exhibit offers a unique insight into Tibetan culture and will be on display through Sept. 29, with the center being opened on weekdays from 8:30 a.m. to 5 p.m.
Cai, a high school student at La Jolla Country Day, recently received multiple awards for his photography at the 2023 Scholastic Art & Writing Awards. His SDSU exhibit reveals his ability to capture the essence of Tibet.
Among the photos in the exhibit are "A Deity Guarding the Temple," depicting a stone statue in a hilly landscape; "Monk in Bhante," portraying a monk gesturing amidst seated peers and "A Monk on his Way to Self Isolation Monastic Retreat," a wide shot of a monk atop a grassy hill.
Further enriching the exhibit, photos such as "Farewell" captures a parent bidding goodbye in rugged Tibetan terrains; "A Nun Walking in the Mountains" captures Tibet's vast landscape and "Driving Sheep in the Rain" displays shepherds at work on hilly slopes. The choice of black and white and grayscale imparts each image's distinctive depth and character.
Lilly Cheng, director of the SDSU Chinese Cultural Center, expressed her deep appreciation for the works on display, especially underscoring the depth of Cai's contributions.
"The essence of Tibet is beautifully depicted in Cai's photographs," Cheng said. "Beyond the visual beauty, through his lens, viewers can deeply connect with Tibetan culture."
Cheng highlighted the universal appeal of the exhibit, underscoring its role in fostering inclusivity and understanding.
"We hope to bring the community in," Cheng said. "This is a space for everyone, not just the Asian community."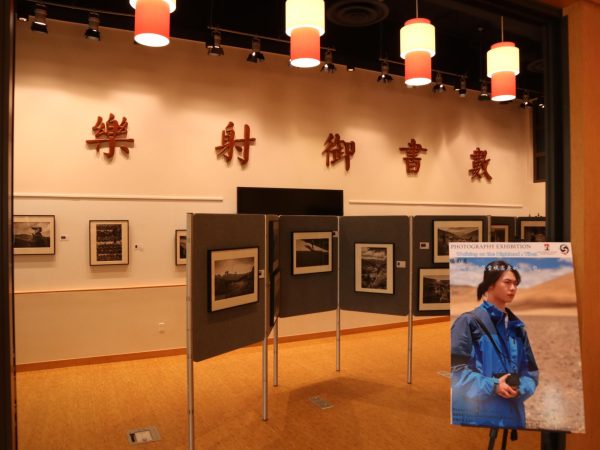 SDSU Chinese Cultural Center (CCC), established in August 2019, is a hub for Chinese and Asia-Pacific cultural understanding. Supported by the College of Education, the CCC provides a platform for scholars, offers exhibitions like Cai's and builds bridges with the Chinese-speaking world through various educational endeavors.
Their goals encompass presenting Chinese culture via dynamic exhibits, encouraging faculty collaborations and establishing academic connections with Chinese-speaking universities.
The "Walking on the Highland: Tibet" exhibit goes beyond merely displaying Cai's photographic talent — it immerses viewers in Tibetan life, showing its spirit, community, beauty and challenges.
The SDSU exhibition weaves Chinese and Tibetan traditions with curated images and artifacts, further fostering understanding within the campus community.
Isabella Lastomirsky, a center intern and first-year international business major, reflected on the exhibit's role in bridging cultural divides.
"I was captivated by how the exhibit chronicles the daily lives of Tibetans," Lastomirsky said. "It's a stark contrast to our lifestyle here."
Lastomirsky also emphasized the unique lens on Tibetan culture offered by a young photographer from La Jolla.
Mia Wang, a center staff member and graduate student in accounting, shared her perspective on bringing the exhibit to life.
"It's not just about curating the space, it's about resonating with the audience," Wang said. "Our goal is for the SDSU community to truly connect with our rich cultural legacy."
Wang further emphasized the center's dedication to cultural enlightenment, highlighting opportunities for the community to engage with Chinese heritage, from its law collections to its artifacts, like fairy tale figurines and ancient temple bells.
For those interested, the CCC is open for study hours Monday through Thursday from noon to 4 p.m. For more information and to stay updated with the CCC's latest events and exhibitions, follow @sdsu_ccc on Instagram.