On Sept. 20, adrenaline pumped into the heart of downtown San Diego as Daniel Caesar fans eagerly waited to enter Petco Park. As the line continued to wrap around several blocks, fans couldn't contain their excitement for the night ahead.
"I'm really excited because this is my favorite artist of all time for the past three or four years," Tristan Arenzana, a senior mechanical engineer major, said. "(Cesar's) been my number one on my Spotify playlist, so this is the day for me." 
The Canadian R&B singer-songwriter's recent album, "NEVER ENOUGH," is the third addition to his discography, joining his earlier releases "CASE STUDY 01" and "Freudian." His album "NEVER ENOUGH" has garnered success on the Billboard chart, ranking second on Billboard's Top R&B Albums and 14th on the Billboard 200 chart.
Accompanying Caesar on the second leg was Orion Sun, a rising alternative R&B singer-songwriter who's celebrated for her sultry voice and openly queer identity.
Vanessa Hernandez, a double major in psychology and American Indian studies, expressed her desire to see both of her favorite artists perform at the same concert.
"I think it's really cool. I think their vibes are pretty similar to me. Their music combines really well with each other," Hernandez said.
As Petco Park's gates opened, concert attendees sprinted toward Gallagher Square, quickly filling up the front barricade. It didn't take long for fans to settle into the relaxed, easygoing ambiance, soaking in the chill atmosphere with fairy lights illuminating trees across the venue.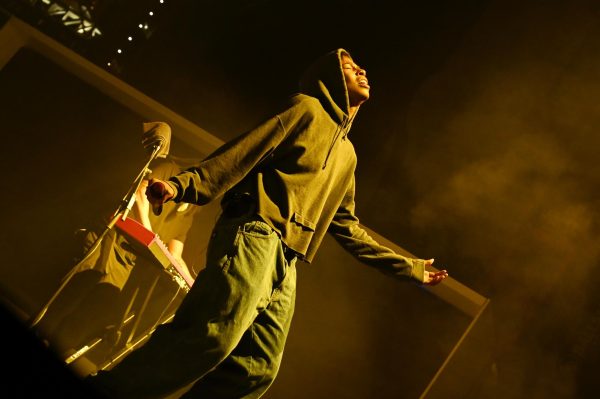 Orion Sun entered into an eruption of screams with her opening song, "Intro," introducing her soothing, yet soulful vocals.
"What's up, San Diego! D-, this is fire," Orion Sun said as the concert kicked off.
She eased the audience with her laidback tracks "Pressure" and "Concrete" from her 2022 EP, "Getaway." The crowd began swaying back and forth to Orion Sun's velvety notes, immediately entranced by her performance.
Her infectious personality was a standout at the show, as she shamelessly danced in between guitar solos and played with the microphone and mic stand. During "Ne Me Quitte Pas (Don't Leave Me)," Orion Sun ran across the stage and collapsed onto the floor, whimsically exaggerating how she was overwhelmed with being in love.
Although Orion Sun displayed amusing antics, she had the ability to draw fans in for slowed-down musical tracks.
Before playing a cover of Paramore's song "The Only Exception," Orion Sun encouraged fans to turn on their phone flashlights so she could search for her "favorite constellation in the crowd." Once she began to sing the renowned song, the crowd immediately sang along to the emotional ballad.
While Orion Sun allowed the crowd to take over the chorus, residents in neighboring apartments around Gallagher Square illuminated their flashlights and joined the concertgoers, creating a powerful and chilling moment for fans to share.
As Orion Sun concluded her performance with "Dirty Dancer," the venue cheered for the 26-year-old singer, helping to set the tone for the rest of the night.
Shortly after Orion Sun's set, a digital TV screen displayed Daniel Caesar and his bandmates praying together. This sent the crowd into a frenzy as they watched Caesar make his way onto the stage, further growing the anticipation.
As the stage lights flickered hypnotically, it felt as though the world had come to a standstill once Caesar began to sing "Ocho Rios" with his ethereal, angelic falsetto.
Fans passionately united their voices with Caesar in a hymn-like chorus, making the experience deeply transcendent.
As Caesar made his way to the center stage, a set of curtain drapes cascaded around him, casting a light silhouette that limited the audience's view of him.
"San Diego, welcome to the Superpowers Tour," Caesar said. "I'm so glad to be here, we're about to have the best time together tonight."
The crowd roared with enthusiastic approval for Caesar's live renditions of "Let Me Go," "Disillusioned" and "Toronto 2014," wholeheartedly embracing his melancholic spirit.
Unexpectedly, the music transitioned into the upbeat song "CYANIDE" from "CASE STUDY 01," causing the curtain drapes to dramatically descend to the floor. This sudden change in the atmosphere electrified audience members, sending a rapid current of newfound energy and excitement throughout the venue.
As the song came to a close, Caesar opted for a keyboard and single spotlight to serenade the audience with his next song, "Loose." The spirited, church-like vocals created a captivating spectacle during this bare, stripped-back performance, providing fans with a unique opportunity to truly appreciate Caesar's natural talent.
Nothing could compare to the nostalgic vibe of Caesar's performance of his most popular tracks, "Japanese Denim," "Best Part" and "Get You."
For each of these songs, the digital TV screen displayed fans' faces behind him. He encouraged the audience to sing the majority of the tracks with each other, intentionally diverting the spotlight away from himself.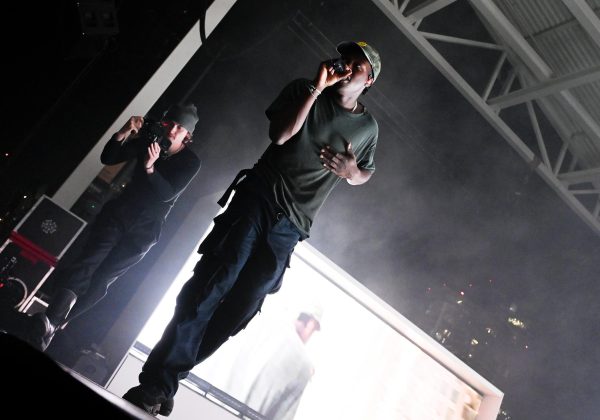 As the show began to wrap up, Caesar performed "Always," a song reminiscent of love and loss that tugged on fan's heartstrings. His heartfelt performance left fans yearning for more as the night came to an end.
Luckily for fans, Caesar ran off stage to perform one last song in a secluded location within Petco Park. However, before this performance, Caesar openly expressed to the crowd that something was bothering him throughout the night.
"It was really bugging me all night the two far-wings… I feel like you guys couldn't see me most of the night," Caesar said.
After requesting the stage crew to adjust the digital screens for his live-streamed performance, Caesar began to strum a familiar tune that shocked concertgoers: "Creep" by Radiohead.
This unplugged song version was incredibly raw and personal. It was a unique cover that set it distinctly apart from the original song.
The digital screens cut to black, leaving concertgoers in awe as they absorbed the remarkable performances that had unfolded before them.
In the aftermath of the Superpowers World Tour, a beautiful intimacy filled the air as concertgoers embraced their close friends and shared kisses with their significant others. It was a night where the power of music united souls, creating an everlasting experience that would be cherished for a lifetime.