Neighbors in Santee anxiously waited to meet "The Caretaker" this Halloween, and he was just as excited to greet them into his abode.
The caretaker twirls his skeleton staff and peers past his black fences and graveyard for his first guests. While his white sunken face makes an impression, his clothes do just the same. His carefully selected crimson robe complete with coattails and black lace blouse stands out from the dreary gray and worn-out ghouls that surround him.
Most are statues while others beckon second looks to see if they will pounce when given the chance.
When the tour begins, it's not the caretaker but the person under the mask who runs the show: Charlie Hough, a fourth-year theater major at San Diego State University.
"I wanted to do this to practice my skill," Hough said. "Putting everything together and seeing every bit., Seeing the smiles and the laughs and the scares, and that to me makes it worth it."
The haunted house that Hough has been hosting for the past nine years has been a way for him to practice the techniques he has learned during his time at Grossmont Community College's and SDSU's theater programs.
His experience in technical theater is what makes the Swamp Shack an impressive sight on his block. This spectacle takes place annually, with more intricate features being added on each year. He began construction on this current haunted house in September 2023.
"I did not imagine anything was gonna look like this," said Kiala Nunez, an SDSU student playing the role of a creepy scarecrow for the night. "Honestly, I thought it was gonna be a lot smaller and I was not expecting any of the traps to pop out the way they did."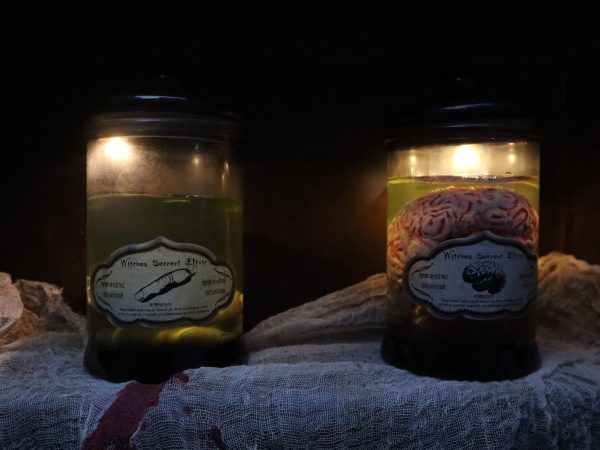 It's evident walking through the haunted house that Hough is an actor and a creative as each room of the shack follows a new story and element. 
After the caretaker guides you to the door, you meet a fortune teller who gives guests their very own fate before they walk through the rest of the house.
Other rooms in the shack introduce undead creatures who jumpscare and delight guests in abandoned hallways, and there's even a mad scientist experimenting on other characters.
The vibe transitions from the Creature of the Black Lagoon to other classic monster films from the '70s —  a very evident sign of Hough's love for the genre.
The haunted swamp shack in particular is a concept that gets revived every year, inspired by his favorite Scooby Doo episode as a child. In that episode, he was captivated by a traditional bog witch and a zombie crawling through a swamp.
"I just like swampy Louisiana stuff, and it doesn't really fit in Southern California, but I try to make it work here," Hough said.
Despite the movie-quality costumes and masks — which are sure to unnerve some guests — Hough's attraction is meant for families and Halloween lovers of any age to enjoy.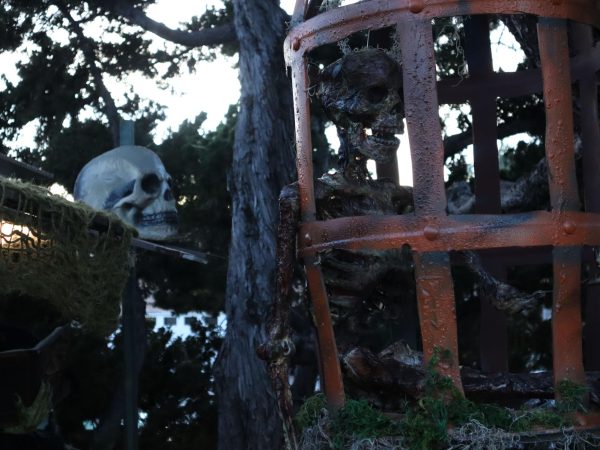 "I don't do too much on the gore, but I definitely try to get people where they're just having fun just screaming and laughing, and to me that's what keeps everything going," Hough said.
Hough's work of art is beloved in the community and pivotal to their Halloween experience.
"Oh, everybody loves it, everybody," said Corwin Taylor, one of Hough's neighbors. "Everybody in the neighborhood talks about it. So it's kind of a highlight for the community around."
One of the youngest participants was 3-year-old London Hughes, who was dressed as the Little Mermaid, and she left with a smile on her face.
Hughes and her family came all the way from Michigan and made a point to visit the haunted house based on a recommendation from a family friend who is a resident in the neighborhood.
After sharing that her favorite part was in fact the "scary things," as she ran in a second time to enjoy Hough's attraction.
After a wrapped line around the block and a nine-year run, this will be Charlie Hough's last year hosting the Haunted Swamp Shack in Santee due to an upcoming move.
While the house is sure to move on to another location, Hough's attraction is sure to impress and haunt residents' memories for longer.