As students walk around on campus, they may notice carts and trucks driving past, emblazoned with "Facilities." They see it so often that they can easily tune them out, paying no notice to the teams constantly driving across campus. 
However, those behind the wheel are on their way to repair, build and upkeep the moving parts that keep campus functioning. 
"We're probably the backbone of the school. People don't realize that if the maintenance workers and the facilities workers weren't here, then the school wouldn't be open," said Tom Slattery, a San Diego State University carpenter and facilities employee.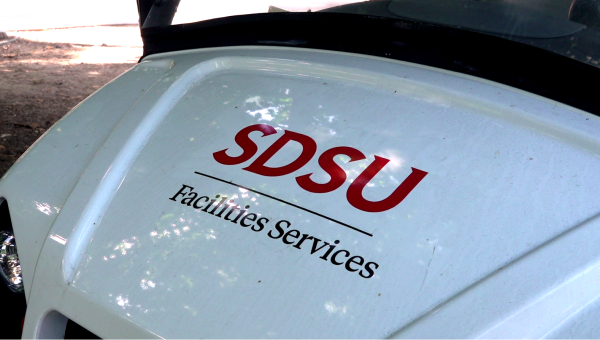 Slattery recently moved to San Diego from New York. Despite being new to SDSU, he isn't new to carpentry and says his and the rest of his team's work is an essential piece of the campus community. 
He said that for all their work, SDSU's maintenance and facilities crew is underpaid and underappreciated. 
"I think we're underpaid in general as carpenters in San Diego compared to what I used to get paid in New York," Slattery said. "And I understand that it's not the same place and all that, but the cost of living is so high — especially in San Diego — that we should be getting paid a living wage."
Slattery spoke as he fixed ceiling tiles, and said much of his day-to-day work consists of repairs and ensuring that the buildings of SDSU are structurally sound and in working order. He demonstrated on a tablet his tasks for the day that stretched for pages. 
Like many, Slattery is one of the various facilities workers who support campus life.
SDSU's facilities services encompass a wide range of employees, including mechanical and electrical teams, plumbing, custodial services, landscaping and more. 
These jobs mean working toilets, electricity in outlets, clean grounds, running sinks and water fountains and tidy trash cans — daily privileges that students may take for granted — all exist due to the work of the facilities crew.
Many of the facilities crew, however, feel that they are not being compensated fairly, which culminated in the labor union Teamsters Local 2010 hosting a strike on campus on Nov. 14. 
While not all of the facilities workers were part of the Teamsters union who participated in the strike, a good number were. Across the CSU system, around 1,100 employees are members of Teamsters Local 2010.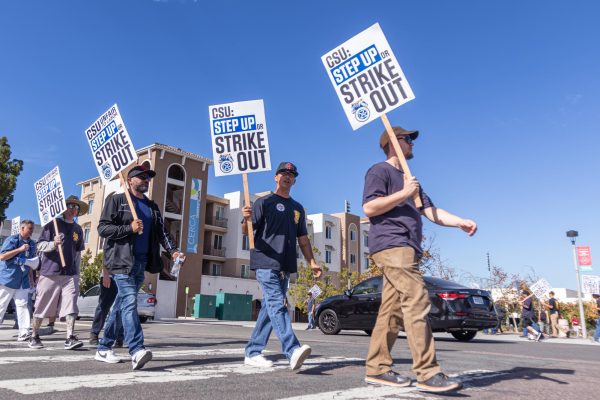 "Skilled trade workers within the CSU system and on our campus, serving as electricians, elevator mechanics, plumbers, facilities workers and in other trades," read a statement from the university. 
This strike isn't unique to SDSU as it simultaneously occurred across other CSU campuses.
"CSU workers are essential. We maintain critical student, faculty and campus infrastructure. But nearly 30 years ago, salary steps were eliminated, our wages fell behind other state workers' and we stopped moving through our salary ranges," according to a statement on the union's website.
In August, the CSU offered facility workers 4% general salary increases. However, Teamsters Local 210 stated that the offer was "wholly inadequate."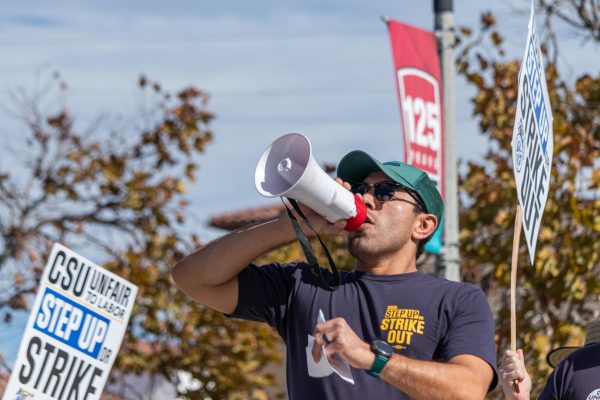 Along with the unsatisfactory offer, without a "step" system in place — being paid a set percentage more the more years you work with a company — workers felt their payment system was unfair. 
Some facilities employees who have worked at SDSU for 20 years are reported to be paid the same as those hired within the year, according to Slattery.
According to the CSU's chancellor's office,  "The CSU and Teamsters have reached an impasse in their contract negotiations but are still engaged in the bargaining process under state law."
The statement went on to say that the CSU is committed to the bargaining process and is "reaching a negotiated agreement for increased compensation with the Teamsters," which have recently been done for five other CSU employee unions.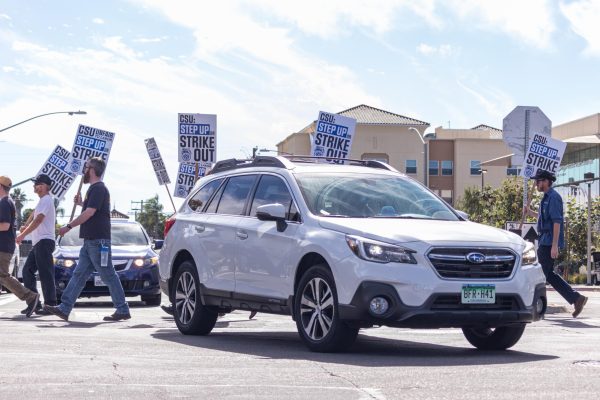 With the cost of inflation and the demanding conditions of a career in maintenance, the reasons for the union going on strike for a wage increase become increasingly clear. 
One facilities employee, Tomas Diaz, said the weather in hotter months can make his work harder. 
"It's a beautiful campus, and we want to keep it that way. Our job is very important," Diaz said. "It's a fun job for sure, but it's a hard one with the weather and all. It can get really hot out here and you're exposed to the elements."
The facilities crew makes up a community of people who work to not only support students and faculty, but each other. 
"I'm on the younger side so hanging out with the guys and getting to learn from them and learn more skills is definitely the coolest part about it," Diaz said.
With all the demands of daily facilities work, from starting at six in the morning amidst the heat and bustling campus sidewalks, facilities crew members recognize that there is still much joy in their work.
"I've been a painter now for almost 38 years. It's something I love doing," said Charlie Mercado,  a painter for the SDSU facilities team. "I love the work and the people we meet. I have a great supervisor, which helps."
Mercado has been at SDSU for a decade. He enjoys the work he does, including painting new buildings, refreshing old ones or painting over graffiti, even if students keep walking through the wet paint, as he jokingly adds. 
He points out that students can make staff feel valued with even the simplest of recognition. 
"I think we get unrecognized for some of the stuff that's done. People don't see behind the scenes. They don't see the hard work that goes into it," Mercado said. "People sometimes come up and say, 'Great job, it looks good,' even that right there goes a long way."
The conversation with Teamsters and the CSU surrounding working negotiations remains ongoing.