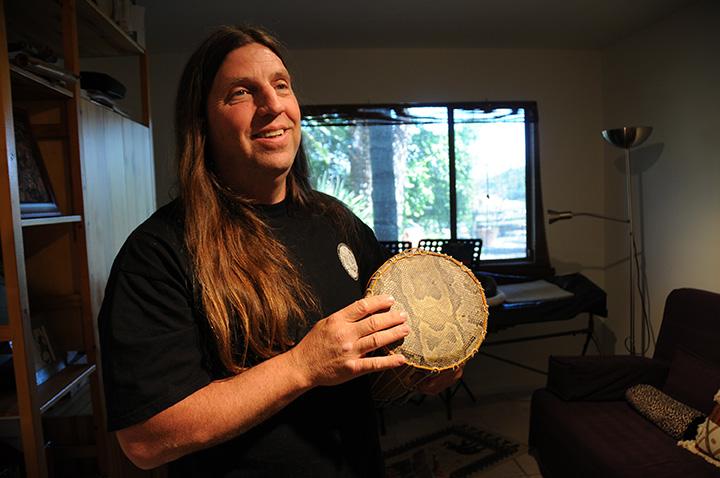 Stephen Finlayson / Staff Photographer
Leaving one's footsteps across the world is an honorable lifetime wish. And for many professors, their traces stand strong in the lives of multiple generations of students. John Flood is one professor whose impact reaches beyond the confines of San Diego State.
The director of percussion in the School of Music and Dance, Flood directs Fulcrum, the SDSU Percussion Ensemble. Being a lecturer in world music and the history of rock "n' roll, multiple students' have been given the gift of understanding music because of Flood.
As an extensive traveler, he has spent time in Ghana doing extensive fieldwork in traditional village drumming. He also enjoys visiting Java and Bali, Indonesia to learn and participate in the cultural music and to bring this music back to share with students. As a result of these travels, he has created workshops and programs at SDSU to highlight the multifaceted nature of music across the world.
As director of Ho-Asogli, SDSU's African Ensemble, Flood helps reconstruct African music at the university expanding the minds and eardrums of people on and off campus.
But Flood's passion for teaching and music reaches beyond the university. He has performed theatrical presentations with the San Diego Repertory Theatre and La Jolla Playhouse and has collaborated with various dance companies. He has also performed in David Ward-Steinman's Millennium Dances with the San Diego Symphony directed by Jung Ho Pak in 2000, Ward-Steinman's CHROMA, Concerto for Multiple Keyboards, Percussion and Chamber Orchestra with the Moravian Philharmonic Orchestra in the Czech Republic in 1998. This list of accomplishments is only a portion of what Flood has contributed to the music world.
His work has extended to reach the children of Madison High School Cluster and San Diego City Schools, where he is the Artist in Residence for Visual and Performing Arts. At SDSU, Flood implemented a comprehensive world music program for students in kindergarten through 12th grade. He believes multicultural education contributes to making the world a better place, as music can often be a bridge of understanding for various cultures.
"The kids would be so much more in tune with the world," Flood said. "They play music from the whole world which gives them a connection to people that they don't get just by reading a book."
According to Flood, when children learn more about world music, a connection is created between different cultures. And with the help of International House of Blues Foundation, children are able to better appreciate the world around them as they use handcrafted drums by local artisans, rather than plastic drums.
Despite the concerns of the foundation about the using of natural materials, such as animal skin and wood, Flood believes his teaching not only involves world music and drumming, but also involves reusing objects or materials.
"It teaches geography, recycling and taking care of (the) environment," Flood said. "Not just going in a drum circle to beat on a drum."
His efforts awarded him the Ernest R. Yee Memorial Multicultural Music Award for 2010 by the California Association for Music Education. This award recognizes educators who make music prominent in childrens' lives as well as those who effectively teach students the music of diverse cultures.
But Flood's vision expands beyond what he has already accomplished, as he continues to imagine a future in which he can lead a class that emphasizes music's role as a building block for peace.
"(I would create) a real music appreciation class, which is based on current music, its global influences, its roots and 20-person hands-on labs to play drums for everyone," Flood said. "(It would be called) "Stress Reduction and Peace.'"
Students interested in communal acts of creating music to reduce stress and foster peace can potentially look forward to one day having Flood be the leading pioneer for this course at SDSU.
In addition to teaching, Flood is also one of the founding board members of the Flood Family Foundation, which has helped fund numerous health and education programs. The foundation was created to honor his mother's heroic battle with Parkinson's disease, whom he credits as helping make music a serious career in his life.
"My mother was a singer … and they wanted me to learn the piano when I was eight," Flood said. "But I really wanted to play the drums."
According to Flood, after playing the piano for two years, he bought his first drum set and continued to play drums in junior high.
Whether rocking out to The Beatles, traveling to various countries for new music experiences to bring back to the San Diego community or banging on his extensive variety of drums, Flood is a professor who makes music more than just a hobby 8212; he makes it a way of life.
Getting Personal
The Daily Aztec: Who is your favorite Beatle?
John Flood: Favorite Beatle is Ringo of course, I am a drummer!
DA: What's your favorite Beatle's song?
John Flood: Back in USSR

DA: If you are to replace a Beatle member who would it be and why?
John Flood: That drumming thing again
DA: Which Simpson or Family Guy character are you and why?
John Flood: My wife says Homer, but I don't know why, donuts or beer I imagine.
DA: Would you cut your hair?
John Flood: When I do cut my hair I will donate it to a cancer patient.
DA: What is music for you in one word?
John Flood: Music= Peace
DA: Do you like the band MUSE?
John Flood: Love Muse very much!
DA: Do you rock out in your car on your way to class?
John Flood: I wear my iPod right up to the lecture when I am getting ready to teach.
DA: Would you rather sing or dance?
John Flood: Oh, I wish I could sing beautifully, anyone can dance if they can move.
DA: If you are to create a totally new class at San Diego State what would its course title be?
John Flood: A real music appreciation class, which is base on current music, its global influences, its roots and 20 person hands on labs to play drums for everyone (called) Stress Reduction and Peace.
DA: If you would become a Beatle or a celebrity musician/rocker, what would be your preferred alias?
John Flood: Johnny Ramone