IF YOU'RE NOT WEIRD, YOU'RE WEIRD: When talk-show hosts battle for best advice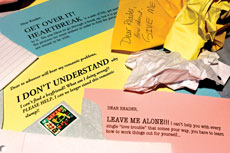 Newspaper writers strive to bring in experts as sources for their columns, while others have discovered the ultimate specialist known as www.Ask.com. As my first Dating and Romance column and in my ongoing effort to be awarded a Pulitzer Prize for excellence in newspaper journalism, I thought I'd try and get a hold of the "Dear Abby" advice columnist or Dr. Drew Pinsky. If I became desperate, I'd look to Dr. Phil McGraw as a source.
After many failed attempts, I realized that the people of Israel and Palestine will be sitting at a campfire singing "Kum Ba Yah" before I'm even able to contact their assistants. Rather than search for alternative sources, I've decided to write the answers I believe "Dear Abby," Dr. Drew and Dr. Phil would give if they were brought together to answer callers' questions on the radio.

Caller 1: Hey, the name's Chip. I'm calling because my girlfriend hasn't called me or answered any of my calls since we had a movie night and I cried while watching "Steel Magnolias." What should I do?

Dr. Phil: Chip, my advice is, "You take yourself out of the game, you start talking about puppy dogs and ice cream, and of course it's going to end up on the friendship tip."
Dr. Drew: That isn't your advice. It's a line from the film "Swingers."
Dr. Phil: (Awkward silence) I'm friends with Oprah.
"Dear Abby": Dear Chip, there is nothing wrong with showing your sensitive side. I remember in high school, the captain of the football team hid "Chicken Soup for the Soul" books under Sports Illustrated magazines. Instead of hiding, look for someone who will appreciate the real you.
Dr. Phil: Hey, Chip, you want an injection of estrogen with that advice? Men's eyes water, women cry, plain and simple. Hey, Dr. Drew Pansy, hand me a beer.
Caller 2: Hello, I'm Janice. I was browsing people on MySpace and I found Vince's profile. I added him and we've been talking for weeks now. I always tell my friends, "From the moment I read his "about me,' I knew it was meant to be." Anyway, he gave me his number yesterday and I was wondering how long I should wait to call him.
Dr. Phil: "You know I used to wait two days to call anybody, but now it's like everyone in town waits two days. So I think three days is kind of money."
Dr. Drew: You have to be joking. That's another line from "Swingers." Have you ever heard of copyright laws, or morals for that matter?

Dr. Phil: Hey "Dear Abby," you want to rub my head? It's as bald as a baby's bottom.
("Dear Abby" columnist leaves the radio station in disgust and without getting her parking validated.)
Dr. Drew: I miss Adam Carolla. (Dr. Drew leaves and only Dr. Phil remains on the line.)
Caller 2: Hello? You still haven't answered my question.
Dr. Phil: "Well, what I've got to say, you really don't wanna hear "cuz honesty ain't too high up on your people's priorities." (For dramatic effect, Dr. Phil hangs up.)

Caller 2: Wait, isn't that a line from "Remember the Titans"?
The lesson learned from the radio conversation of my imagination is that men should cry with pride, MySpace is the free eHarmony of strange stalkers and films are a great source of dating and romance advice. Lastly, not citing your source is illegal and the plagiarism police aren't pleasant people.

8212;Sarah Atallah is an English senior.
8212;This column does not necessarily reflect the opinion of The Daily Aztec.