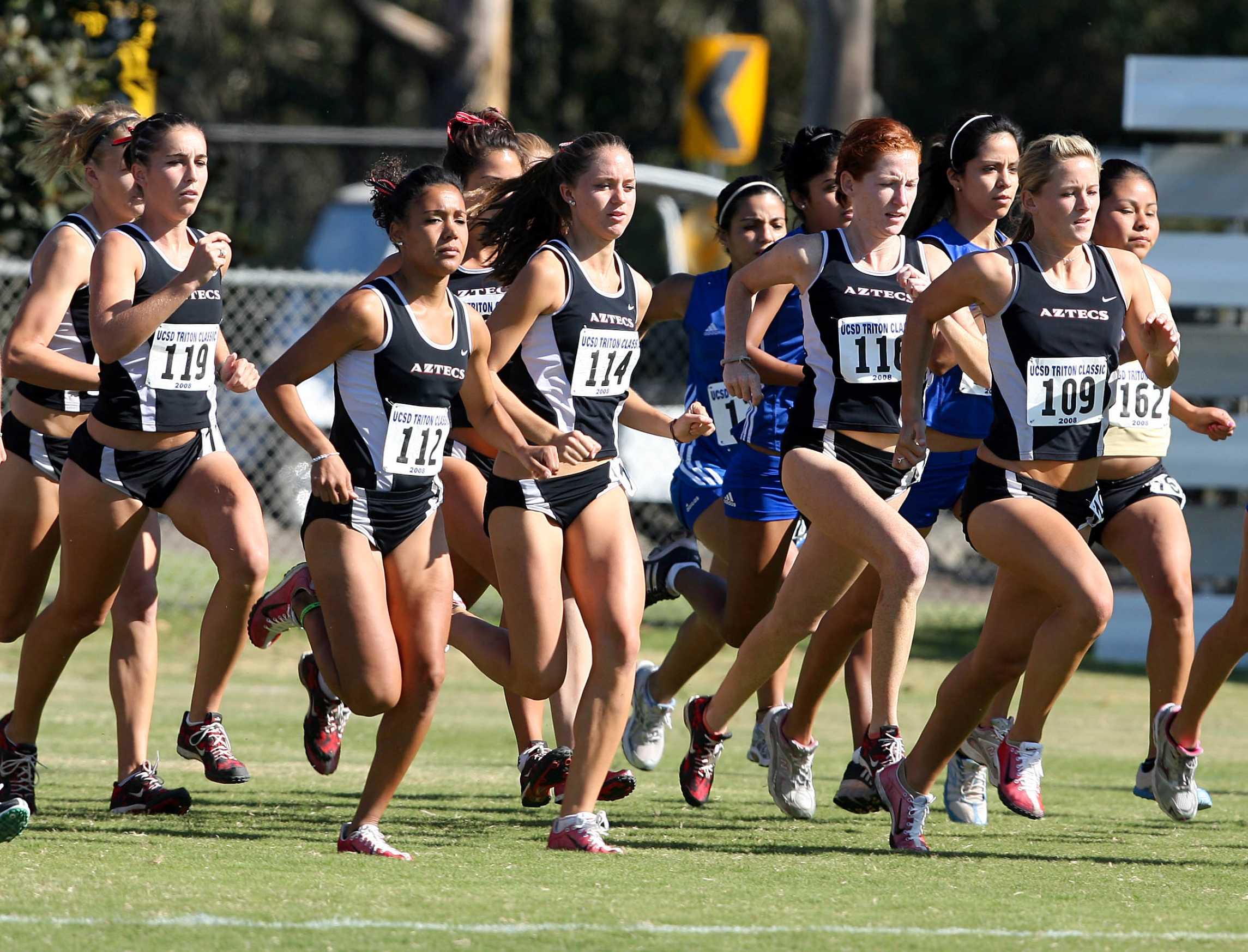 Andrew Huse / Staff Photographer
There are plenty of obstacles that can derail even the best of runners.
Sore legs and tired bodies are just a few, but one of the most difficult to overcome is the mental aspect of running.
The San Diego State cross country team, coming off a third-place finish at the Triton Classic, is looking to improve its mental psyche by carrying momentum into its next event, Saturday's Bronco Invitational in Sunnyvale.
"We have accomplished a lot coming off our break and at the Triton (Classic), and we're excited to keep it going," senior co-captain Anne Vieira said. "We have the Bronco (Invitational) and then conference, and we want to go into our last events with everything we have."
SDSU has accomplished three top-five finishes this season through only four events.
"This season has exceeded a lot of our expectations," assistant coach Jennifer Nanista said. "We're coming down the stretch and we are hitting everything we want to and doing it well."
The Aztecs have not only achieved high finishes, but have also broken multiple personal-records. Senior co-captain Kristin Glen was one of the most recent athletes to establish a personal best and was named Mountain West Conference Cross Country Athlete of the Week yesterday for her performance at the Triton Classic. Glen recorded a time of 22:57.70 in the 6K race.
In every event SDSU has competed in this season, at least one Aztec runner has accomplished a personal-best time.
"As a team, we have accomplished so much and I'm really proud of our girls," Nanista said. "And on individual levels we have excelled, each girl goes out and gives everything she has and that directly shows in our finishes but more importantly our team chemistry."
Chemistry within the team has been one of the main contributing factors to the team's success, and Vieira believes it's the most important thing.
"To be in a pack of girls and hear your name cheered and have your teammates right there with you is the best feeling," Vieira said, "To hear "great job,' "keep going' or "we got this,' is a boost that personally helps me gain another step.
"And our team just seems to mesh and we all have fun together. The season is winding down and we've grown so close we're able to achieve these great finishes, it's simply exciting."
With high chemistry, momentum and confidence, SDSU has hit its stride right where it has wanted to as it heads into the Bronco Invitational and conference play.
"The next three weeks will be exciting but tough at the same time," Nanista said. "We did so well at the Triton and we want to carry that and all of our great runs into our last two events so we can end the season as best we can."
AT A GLANCE
When: 10:15 a.m., Saturday
Where: The Bronco Invitational in Sunnyvale
Who to watch: The Aztecs will try to ride momentum from last weekend's third-place finish at the Triton Classic.