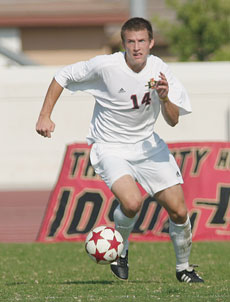 Kelly Calligan, Staff Photographer
For the SDSU men's soccer team, 2004 was a season that, for the most part, would just as soon be forgotten. The team finished 4-13-2 overall and 4-7-1 in the Mountain Pacific Sports Federation, and was plagued by injuries and misfortunes all season long. However, throughout all of the turmoil, the team's strong character shined.
"We showed a great deal of character and resilience this season," head coach Lev Kirshner said. "It was just one of those up-and-down years, and our injuries definitely limited us, but I was certainly happy with the overall character of this team."
Despite the team's losing record, it certainly had some impressive performances from some players who will be back in action for the Red and Black next season. Junior forward Heath Creager was named to the all-MPSF Second Team because of his impressive play this year, and sophomore defender Colin Jennings received an honorable mention. Sophomore goalkeeper and team captain Tally Hall also had an impressive year in front of the net for the Aztecs, posting a 1.73 goals per game against average, with 88 saves. The leading goal-scorer and assist man on the year for SDSU was departing senior forward Frank Caruso, who knocked in four goals and added three assists for the team.
The Aztecs also got some goal-scoring contributions from senior defender Eric Wohl, and junior forwards Trey Meek and Matt Couch – all of whom had two goals on the year for the Aztecs.
Another bright spot for SDSU heading into next year was the way it finished out the season. In the last game of the year, the Aztecs dominated conference rival UNLV at home with a score of 4-2, showing the type of damage they could cause if they played at their full potential.
"Heading into next season, we want to carry the mentality that we finished with," senior midfielder Colter McArdle said. "We also want to make sure to bring in some new players with a lot of heart."
A big step SDSU is making next season is the move to the Pac-10, something the entire athletics department is looking forward to. The conference – filled with top-flight programs among the likes of UCLA and Cal – will be a major step in competition for the Aztecs.
"We're looking to represent our school and university in the Pac-10 next year," Kirshner said. "We're not just looking to compete – we're going in there to win."
With the loss of some key players such as Wohl, Caruso and solid senior defenders Kenny Fechner and Jordan McKee, it will be up to this year's underclassmen to carry the load for next year's squad. By the looks of it, however, it seems as though it will be able to shake off this year and go into next season with the mentality that no one will be able to stand in its way.