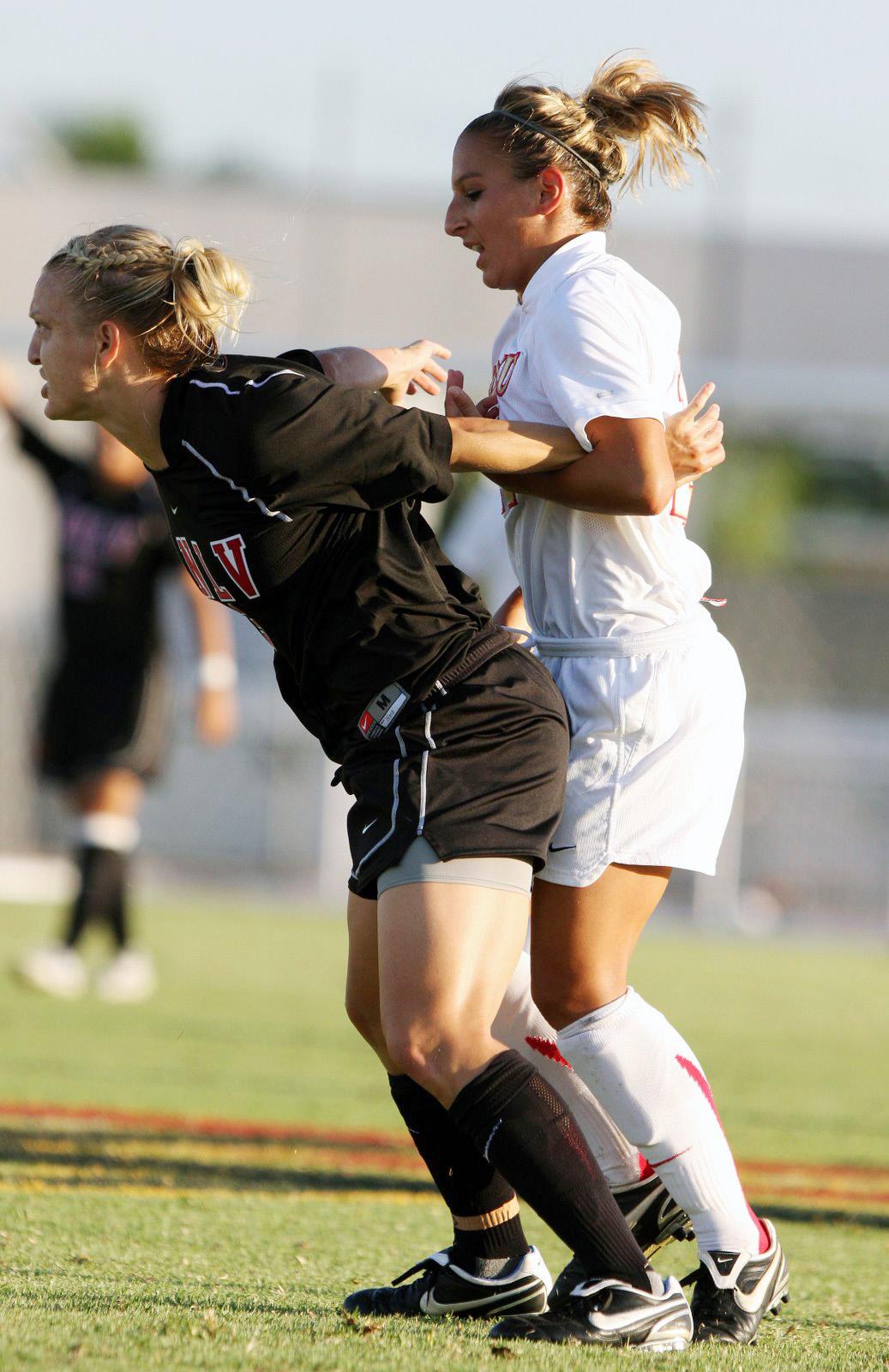 David J. Olender / Photo Editor
In a season that has seen some inconsistencies and mistakes lead to a sub-.500 start going into conference play, the San Diego State women's soccer team has been able to rely on one thing: solid play at home.
Up until Friday, SDSU had been unbeatable at home this year and compiled seven straight victories at the SDSU Sports Deck, dating back to last season.
But, the Aztecs saw their winning streak come to an end with a 2-1 loss to UNLV on Friday.
"I thought (UNLV) did a really nice job of coming in with a lot of energy," head coach Mike Friesen said. "And I think honestly that's one of the things with being a young team is to play in that first conference game, it's a different level of intensity and I don't think we necessarily brought that."
SDSU (4-6-2, 0-1 in Mountain West Conference play) did get off to a good start, as freshman defender Megan McQueeny scored her first collegiate goal to give the Aztecs an early 1-0 lead.
"It was really exciting," McQueeny said. "But I wasn't expecting it."
The Rebels quieted that excitement quickly, as they answered with a goal by forward Ashleigh Shoughro.
From there, both teams found themselves in a defensive battle, but that changed in the second half when Haley Partridge came off the bench. The forward had already scored two game-winners against SDSU in the past and found a way to do it again to give UNLV (9-3-1, 1-0 in MWC play) the victory.
"Overall, it was a good effort," Friesen said. "I'm just a little disappointed with the result, but nothing we can't fix and move on."
On Sunday, the Aztecs looked to do just that against Loyola Marymount in their final non-conference game of the season, but were unable to get on the scoreboard in a 0-0 tie.
"I thought we did a nice job locking (LMU) down and we also created a lot of chances, so even though the score says 0-0, it wasn't necessarily a defensive battle," Friesen said. "I thought we did a good job controlling the game for the most part, we just couldn't find the back of the net."
SDSU proved it was in command of the game as it outshot the Lions 12-6, but didn't take advantage of its opportunities.
The Aztecs can still take away something positive from the tie against LMU (5-4-3).
"I thought we played well," Friesen said. "One of the things we need to do better is play a little more solidly defensively, so I thought that was very good for us."