VOLLEYBALL: Aztecs go outside to get inside MWC Tourney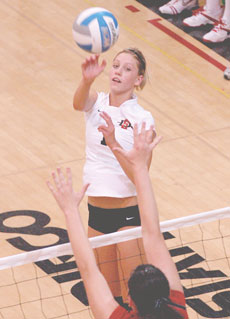 Ken Padilla, Staff Photographer
Last time the San Diego State volleyball team faced Colorado State, it dropped a tight match.
SDSU, playing without freshman outside hitter Stephanie Darnall, played well despite losing 3-1 on Oct. 14.
That loss hurt worse than most, though.
The Aztecs had won their previous two matches, but the defeat sent SDSU (10-15, 4-9 Mountain West Conference) into a tailspin.
The Aztecs lost their next two matches. The Rams (16-6, 10-2 MWC) went the opposite way beating their next four opponents.
Despite the trends, SDSU is confident heading into the game against CSU at 7 p.m. on Friday at Peterson Gym.
"We fully expect to beat Colorado State here," associate head coach John Ross said. "I think that last time we would've beaten them if Darnall wasn't injured."
The match won't be resting on Darnall's shoulders alone, however. Junior middle blocker Lindsey Mahan has been helping control the middle lately and will be a focus of the Aztecs' game plan. Mahan has tallied 33 kills in SDSU's last three matches – two of which were victories.
"Mahan is playing well lately, and if she keeps up her progress, it will make things easier on the team," Ross said. "If she keeps playing well, it lets us play the ball more outside."
Strong play on the outside has helped lift the Aztecs – who have played .500 ball during the last eight matches – and they plan on spreading the ball to keep their opponents from focusing on any single player.
SDSU has recently been relying on Darnall and senior outside hitter Melanie Greene more than usual .
In addition to attacking the sides, the Aztecs have picked up the intensity of practice. The team has been setting the bar – and the net – higher to help in games.
They initially made the move to prepare for the high elevation in Wyoming but are sticking with the tactic.
"We were setting the nets high last week, and we'll probably do it more this week," Ross said. "The girls felt that since we had been playing like that all week, the nets weren't a factor during play."
Any edge will do, and SDSU will use whatever it can get. The Aztecs lost their chance at finishing .500 with last weekend's loss, but they can still win their last three home games to enter the MWC Tournament with momentum.
SDSU will play Air Force on Sunday following the CSU match, and it hopes for a victorious weekend.
"Of course, we can only look at one opponent at a time," Ross said, "but we're definitely trying to win out."