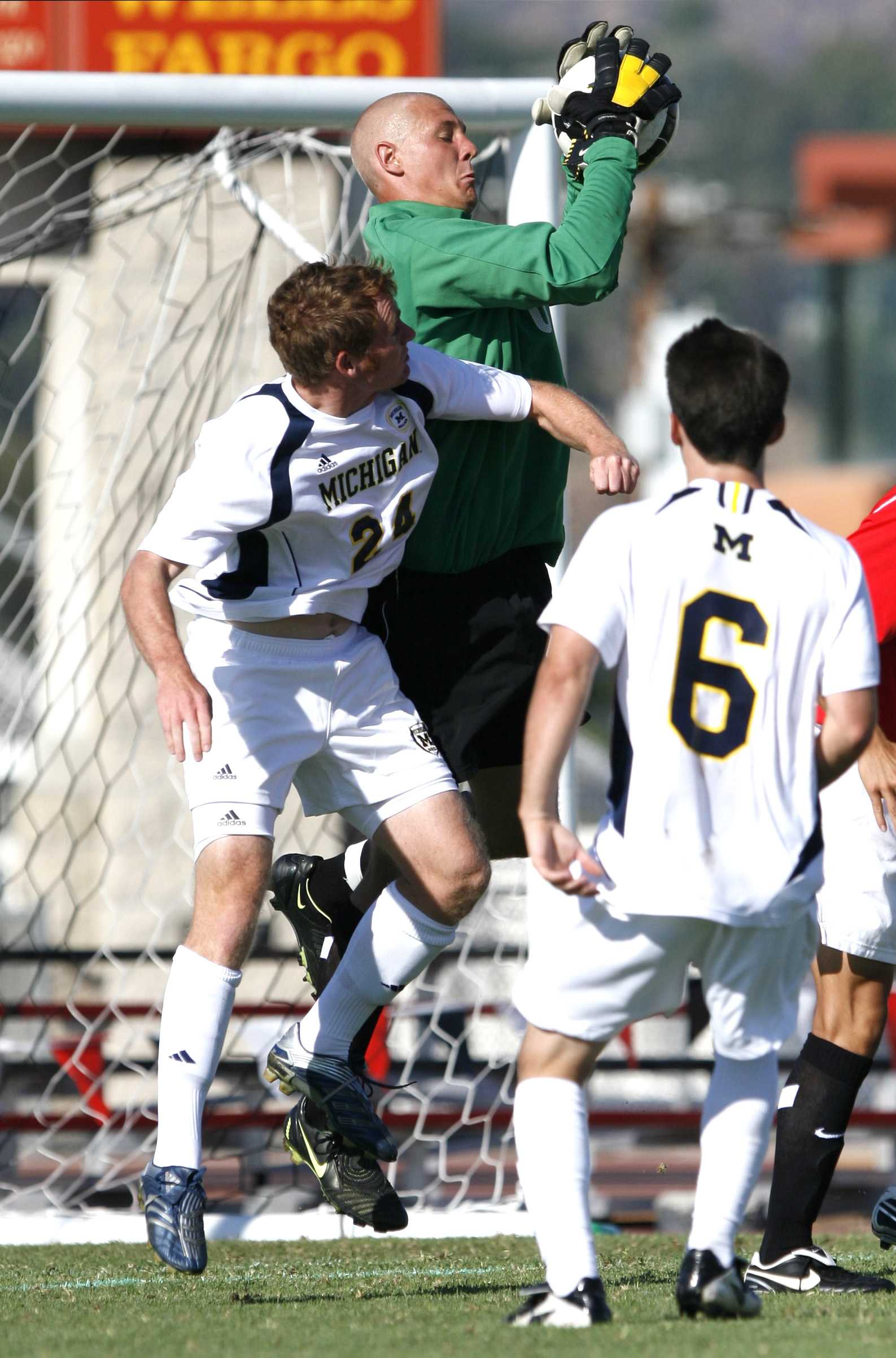 David J. Olender / Photo Editor
It's been one year since Brad Byrns suffered a fractured elbow and was forced to sit out the remainder of his freshman year. But on Sunday afternoon at UCLA, Byrns returned and made his presence felt.
The goalkeeper's comeback from a one-year injury and two quick goals by redshirt-junior Matt McManus had the San Diego State men's soccer team up 2-0 at halftime.
Then came the roller coaster ride that was the second half for SDSU.
The Aztecs gave up two goals and lost freshman midfielder Daniel Steres to a red card. Playing with just 10 men and against the Bruins' momentum, freshman midfielder Joe Corona's rebound goal seemed to erase all that.
But a goal in the eighty-seventh minute by UCLA evened things up at three, and that's how regulation ended.
Overtime did not live up to the hype of the previous period with the game ending at a 3-3 tie, although SDSU played the final 12 minutes with just nine men after junior midfielder Jamel Wallace picked up his second yellow card.
"We were up 2-0 so we felt we should have won," Byrns said. "This feels more like a loss than a win. We're not too happy about it right now."
The high intensity match between the two rivals featured seven total cards and 34 fouls committed. The Bruins (2-3-5, 0-0-1 in Pac-10 play) outshot the Aztecs 25-18.
Even though Byrns was clearly frustrated by the loss, he was excited just to be able to play after fracturing his elbow last October.
"Obviously it's going to take time to get back into the rhythm of things," Byrns said. "I felt pretty good though. A little sore, but nothing serious."
The offensive breakout was also encouraging for SDSU (2-5-1, 0-0-1). The team had scored just four goals in their previous five games since breaking out with six goals on Sept. 7 against Albany. The team was expected to lose some of its offensive punch after losing 2007 leading scorer Kraig Chiles to the MLS.
SDSU had its other 10 starters returning, so the team figured to go with a score-by-committee approach, which has been the case so far this season. No Aztec has more than three goals, though five players have scored at least twice on the campaign with seven players on the score sheet overall.
The Aztecs will continue their conference play on the road next weekend, with games at Stanford and last year's Pac-10 champion California on Friday and Berkeley on Sunday.