Diversity is key for business majors to-be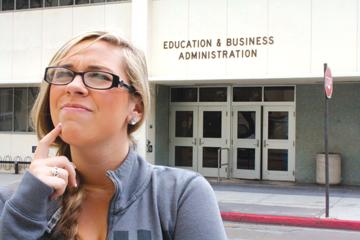 As business majors graduate in swarms, companies begin to question the diversity of the degree. | Chelsea Massey, staff photographer
During the 2008-2009 school year, business majors dominated the American academic community with the largest number of degrees granted to undergraduate students. However, quantity does not always guarantee quality.
Business degrees, often considered vocational in the 1800s, represent more than 20 percent of U.S. undergraduate degrees, nearly doubling the next most common majors, history and social science.
The whopping 348,000 bachelor's degrees awarded to business graduates during the 2008-2009 school year promise an average starting salary of $52,972. However, according to The Wall Street Journal, faculty members, school administrators and corporate recruiters are questioning the validity and value of the business degree.
One ongoing concern is that business degrees lack variety in courses throughout the major, focusing only on the technical side of business and taking for granted the critical thinking and problem-solving skills degrees such as communications and psychology offer students, some companies may prefer these skills when looking for a more diverse selection of talents.
However, according to international business junior Ericka Brunner, studying business is not only about learning how to survive in the business world: It is also about networking and building relationships with peers who can potentially become future business partners.
"But networking is not the key role with my major," Brunner said. "I would say it helps you get going once you graduate, but my business would never survive if I wasn't learning how to study clients, accounting and finance."
According to The Wall Street Journal, companies often look for an assortment of candidates with broader academic backgrounds, who can provide innovative ideas from multiple disciplines rather than solely focusing on the nuts and bolts of finance and accounting.
Though recruiters have lately been seeking well-rounded candidates to ensure diverse pools in the workforce, the question arises of whether or not schools are doing enough to prepare graduates for employment.
Many schools across the country now require business students to take non-business-related courses, while some schools are even discussing the possibility of integrating liberal arts courses into the business curriculum to eliminate a lack of variety in their programs.
That being said, a study conducted by the National Association of Colleges and Employers has shown students with business degrees have a 45 percent chance of securing a job offer after graduation.
In addition to offering jobs during tough economic times, many recruiters are also offering thriving careers once these jobs are secured. This is quite contrary to liberal arts majors, of whom less than 30 percent will be able to obtain jobs after graduation.
According to tourism-turned-business major Jennifer Damian, because the SDSU business program is open and less strict with its curriculum, she has a broader area to choose from when looking for jobs after graduation. This will hopefully give her the opportunity to choose from a variety of companies.
"Not having a specific niche allows you to spread your wings into the business world," Damian said. "I have no limitations as to where I want to take my business."