Service members naturalized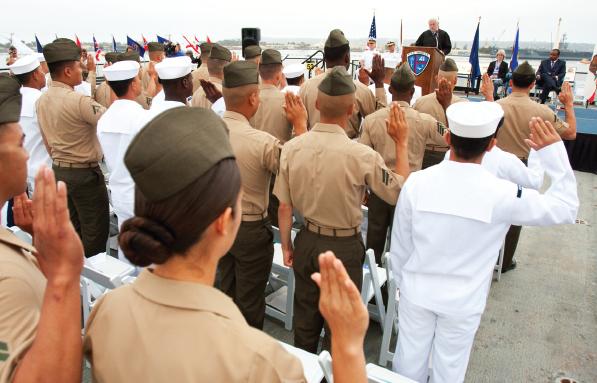 In honor of Independence Day, 35 active military members were sworn in on July 2 as official U.S. citizens in a biannual naturalization ceremony held aboard the USS Midway Museum.
The flight deck of the aircraft carrier served as an official courtroom for U.S. Citizenship and Immigration Services as U.S. Chief Bankruptcy Judge Peter W. Bowie led candidates in the oath of allegiance.
Service members from the Navy and the Marine Corps, were sworn in as citizens and received naturalization certificates. USCIS San Diego District Director Paul Pierre said the number of countries represented at the ceremony, include Ghana, Kenya and Thailand, showcased the "ethnic and cultural diversity of the military warriors."
"These military members place themselves in harm's way on a daily basis to protect this great nation; now they are becoming citizens of the country they have been defending,"
Pierre said. "You will not find a more deserving group of people in the world who deserve their citizenship today than this group."
zU.S. military member Mohamed Muhidin and his family gleamed as he posed for photos atop the stairs of a restored war plane with his certificate in hand. "It was a lifelong journey and I know my whole family has  been through a lot, so this is just a day of celebration," Muhidin said.
The naturalization process takes at least five months to complete, from the time the application is submitted to taking the oath of citizenship. In order to be eligible to apply for U.S. citizenship, all non-citizen service members must be a lawful permanent citizen, be at least 18 years of age, display good moral character, and pass an English and basic civics proficiency tests.
According to Public Affairs Officer for the Southwest Region Marie Sebrechts, almost 80,000 servicemembers have been naturalized since the first ceremonies began in 2002.
"They look around one day and say, 'This is my country. I want to be able to vote, I want to serve on a jury, I want to travel on a U.S. passport' and that becomes the day," Sebrechts said.
Muhidin served in the military for five years and was stationed in Iraq for five months. His mother, Isha Muhidin, said it is "total happiness" having her son back home.
"When he was in Iraq, I asked him, 'Honey, if you could rewind the clock, would you have changed your mind to join the military?" Isha Muhidin said. "He told me, 'Are you kidding me mom? This has been my dream to fight for my country.'"
Muhidin returned to San Diego in 2008 and applied for citizenship one year prior to the ceremony. He enrolled in a specialized course offered by the military for active duty members to ease the application and interviewing processes.
"I'm happy to be here with my family and I'm happy to finally have a place to claim as home," Mohamed Muhidin said.