We watched (the news) while you slept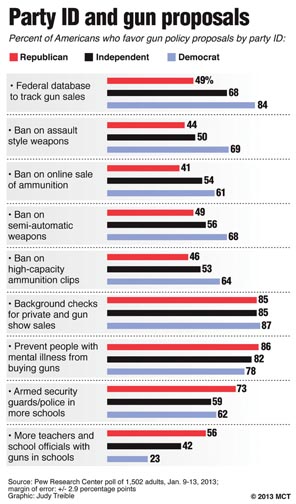 Christmas presents have been opened, (too much) eggnog has been drunk and the New Years Day hangover has been survived. This means winter break is finished and it's time to get back to the real world. To ease you back, we've compiled the top stories we think will continue to have a large impact in the months ahead.
San Diego ending its war on medical marijuana
Incoming San Diego Mayor Bob Filner announced he would end the city's battle with medical marijuana dispensaries, which are legal in California although they continue to face criminal prosecution by the federal government. City Attorney Jan Goldsmith will end all ongoing cases against dispensaries. Filner seems determined to pass new zoning laws to create clear, comprehensive and reasonable regulations about where dispensaries can be located.
This is a good sign for medical marijuana advocates who were dismayed by continued pushback from the city during former Republican Mayor Jerry Sanders' administration. During his tenure more than 100 dispensaries were closed and new zoning laws were proposed which would virtually drive dispensaries out of the city and out of reach of elderly or ill patients with limited mobility.
Light at the end of California's fiscal tunnel
After years of belt-tightening and seemingly insurmountable budget deficits, California Gov. Jerry Brown released a deficit-free 2013-2014 budget proposal. The proposal, which totals slightly less than $98 billion, won't be finalized until May when tax receipts are received and provide a clearer picture of state finances. Still, this is a very encouraging sign. The balance was brought on in large part thanks to higher taxes, including the recent voter-approved Proposition 30, as well as the end of redevelopment agencies and other statewide cost-cutting measures.
The proposed budget also includes something most San Diego State students have never even heard of during their time in college: a $125.1 million increase in state funding for the California State University system. If this doesn't put administrators in a cheerful mood for the beginning of Spring semester, nothing will.
Putting a small damper on the celebration is news that San Diego will face a $40 million budget deficit this year, rather than the surplus Filner had originally hoped for. The change is a result in part of large upfront costs for a voter-approved pension-restructuring plan which is intended to save millions during the coming years. San Diego's economy continues to improve, with housing prices reaching their highest levels in 4 1/2 years. Unemployment in November was at 8.3 percent, slightly higher than the national average but down from 10.9 percent in January 2010.
The revival of the gun violence debate
No one could have missed the tragedy at Sandy Hook Elementary School, where an armed assailant killed 27 people, including 20 kindergarteners and himself. The shooting—at the heels of the Aurora movie theater shooting where a gunman killed 12 people and injured 58 others—reignited a national debate regarding gun violence that had long been dormant. It isn't clear what, if any, gun-control legislation can pass in a Republican-controlled House of Representatives.
Still, President Barack Obama remains a vocal supporter of gun control and yesterday signed an executive order creating a $500 million fund to research and prevent gun violence. He also called for congressional action to mandate background checks for all gun purchases, as well as a new ban on military-style assault weapons. California Sen. Dianne Feinstein already promised to introduce a ban, which would likely mirror the one signed by former President Bill Clinton in 1994, which expired in 2004.