"Pygmalion" revival still prevails after 100 years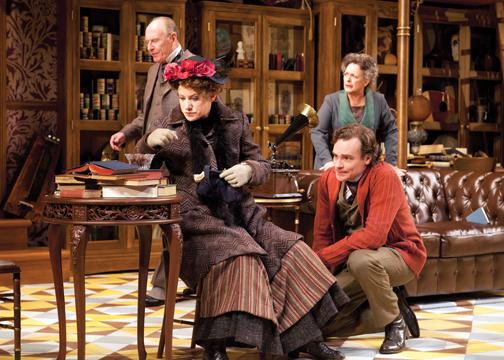 Who would have guessed that after a century, "Pygmalion" would still be produced by respected theater companies? Even after 100 years, Professor Henry Higgins and Eliza Doolittle prevail as two very amusing characters in The Old Globe's rendition of the production.
For those who have not seen any version of the original show or the unforgettable musical "My Fair Lady," here is a short synopsis. Set in 1912, Eliza (Charlotte Parry) is a poor flower peddler whose crude vocabulary skills and unattractive physical appearance lead to her gaining little respect from more well-to-do Londoners. After an argument with Eliza, Henry (Robert Sean Leonard), an egocentric professor of phonetics, bets his new acquaintance and colleague, Col. Pickering (Paxton Whitehead) that he can transform the ugly duckling into a proper lady within six months.
For the modern "Pygmalion" to work, the cast must be comprised of talented actors who make the popular roles their own. Parry rises to the challenge of having to consistently change her personality as Eliza lives in Henry's house. Parry's total commitment to Eliza's transfiguration brings many comic and emotional payoffs.
Although Parry is funny, her most memorable scene is a very serious moment in Act IV. After feeling used by Henry, Eliza quietly sits down in his laboratory as the professor talks to Pickering about how she has successfully passed as a duchess. Parry conveys so much heartbreak in her silence as she listens to the two men talk about her as a satisfactory project that has come to completion.
Tony Award winner Leonard gives a hysterical performance as a youthful Henry. A third rate-ham could have turned the professor into a painfully annoying caricature, but Leonard has a ball exploring the bachelor's narcissistic nature.
Two supporting performers are so hilarious that they must be mentioned in this review. Kandis Chappell is perfectly cast as Henry's brutally honest mother, Mrs. Higgins. Her no-nonsense attitude results in some of the bigger laughs of the evening.
Another standout ensemble member is Don Sparks, who plays Eliza's good-for-nothing weasel of a father, Alfred Doolittle. Though on stage for just a few occasions, his deadpan delivery is comedic gold.
The only part of the plot which needs further development is the bet between Henry and Pickering. In this interpretation, the two are so friendly toward one another, it is easy to forget there should be tension in hoping Henry's "experiment" with Eliza proves successful.
However, it could be argued director Nicholas Martin is far more interested in the relationship between Henry and Eliza. If this was his intended emphasis, his approach works because the characters' smart and sometimes awkward conversations together are riveting.
Clever, fun and a little bittersweet, The Old Globe's adaptation of writer George Bernard Shaw's "Pygmalion" is tremendously witty as well as a breezy, spot-on night of entertainment. Here's hoping in another 100 years, there will be more revivals of this timeless classic.
Tickets and information about "Pygmalion" can be found at theoldglobe.org.