JJ DOOM teaches hip-hop master class on 'Kuffs'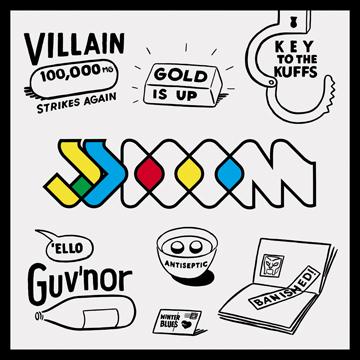 The man in the mask is back.
Since the late '80s, DOOM (English born Daniel Dumile) has had many musical incarnations and was part of numerous exceptional collaborations, including Danger Doom (with Danger Mouse) and Madvillian (with Madlib). Now adding to the list is "Key to the Kuffs," the first album from JJ DOOM, a collaboration between DOOM and rapper/producer Jnerio Jarel.
Let's get it out of the way now: "Kuffs" is a wonderful album. DOOM is master of his craft, consistently producing some of the freshest hip-hop year in and year out. "Kuffs" is no exception, combining complex, lyrical rhymes with instrumentation so good you'll yearn for another volume of "Special Herbs" (instrumental-only albums of DOOM tracks).
Right from the start, "Kuffs" will hook you. After the introductory track "Waterlogged," "Guv'nor" invades with a solid beat, grounded beneath an airy overlay. The track also samples "Ello Guv'nor," an episode from the popular cartoon "Regular Show," adding a certain level of cheekiness. Both aspects of JJ DOOM (the JJ and the DOOM) know they're talented, which you can hear on the track, but they also set the tone that this album won't hit you over the head with any sort of message. As much as I dig stuff like Macklemore and Ryan Lewis, I feel there's a certain subtlety lost in their hip-hop that I find from artists such as DOOM.
There's no matching DOOM's wordplay. On the opening lines of "Guv'nor" he raps, "Catch a throatful / From the fire vocal / Ash and molten glass like / Eyjafjallajökull / The volcano out of Iceland / He'll conquer and destroy the rap world like the white men." I challenge any other rapper to name-drop an Icelandic volcano in a way that is both pertinent to the topic of the song (which it is) and fits with the flow (which it does).
Nothing on the album is overdone or overblown. Even a guest appearance by Blur and Gorillaz frontman Damon Albarn on "Bite the Thong" is noticeable, but not totally apparent. No one writes key parts like Albarn, and from the very beginning of the track, he's unmistakable. However, he never performs a guest verse or any other sort of hip-hop trope. It's one of the album's several cool guest appearances, which includes another by Beth Gibbons of Portishead on "GMO."
"Kuffs" is also more of a traditional album than DOOM's other outings, which generally come across as one lengthy mixtape instead of individual tracks. This works to JJ DOOM's favor because each track is a complete, comprehensive thought rather than part of something larger. However, this doesn't mean the album is disjointed. DOOM smartly tackles contemporary issues, making the album feel relevant and intelligent (which is not something always seen within the hip-hop scene) while maintaining the aforementioned level of subtlety. The message and the medium work hand in hand here as opposed to one overtaking the other, which can happen way too easily (see: Macklemore, and also Flobots).
While DOOM may appear to do most of the work here, it's really Jarel who shines in the production department. The range of instrumentation on the album is just incredible, as each track delves into new musical territory.
Really, I could go on forever about "Kuffs," but I won't. Go out and pick this one up. It's some of the best hip-hop to come around in years, making it a late contender for my favorite album of 2012.
check out:
Guv'nor
Bite the Thong
Wash Your Hands
GMO
Winter Blues