My iced coffee is down to its melted dregs as I look up at each person entering Starbucks–but, each time, it's never who I'm expecting. I'm growing anxious.
It's 9:30 when my phone lights up, displaying a text that simply says, "Just parked." I exhale. Finally. The front door swings open and in walks a man wearing a suit and a pair of sunglasses. He opens his briefcase, revealing a bulging brown paper bag. My eyes light up at the sight of such a package.
"These are for you," he says. I sigh happily, feeling the weight of the bag in my hands. My addiction to The Secret Cookie Service's cookies is spiraling out of control. But, somehow, it feels so right.
"I've never done this before, but would you like to make a couple of deliveries with me?" asks the man, sunglasses still covering his face.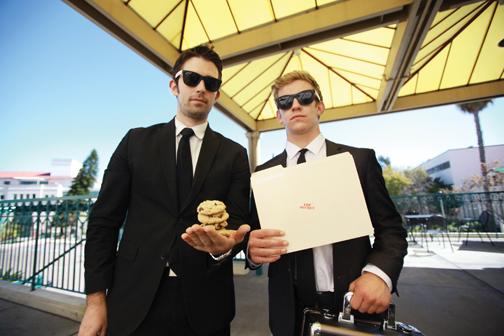 With a chocolate chip cookie in one hand and my notebook in the other, the only correct response was "yes." I'd always wanted to be a secret agent. In fact, I'm sure everyone did growing up. Sometimes, you need to follow the melted-chocolate wave of opportunity when it hits you. With that, I followed this mysterious man out the door.
I was on a mission to reveal some of the secrets of The SCS. For this operation, I went undercover as an honorary secret agent. The following is top secret, formerly undisclosed information.
The SCS has been feeding late-night cookie cravings here at San Diego State since September 2012. These freshly baked cookies will fuel any baked-goods addiction or act as an energy boost on a late-night cramming session.
Identifying himself as Agent Snickerdoodle, former University  of California, San Diego student and founder of The SCS takes off his sunglasses to safely navigate his way through the streets. The scent of warm vanilla fills the entire car, making it difficult to focus on our conversation. Snacking on snickerdoodles seemed appropriate as Agent Snickerdoodle divulged his daily routine as a secret agent. He spends his daylight hours baking cookies en masse, alongside his legion of secret agents. The soft, cinnamon cookie I was devouring had been made hours earlier by the secret agent himself. Like every true professional, Agent Snickerdoodle functions on minimal sleep and a strict daily diet of a peanut butter cookie and a glass of 2 percent. He prepares for his duties by lifting heavy bags of flour and dueling with the Cookie Monster. The remainder of his duties are top secret, even to an undercover agent like me.
He drives swiftly under the cover of velvety darkness. At any moment, we could discover ancient dessert recipes or be called to fight off the evils of cauliflower. However, our current mission is dictated by receiving text messages. Agent Snickerdoodle arrives at the designated drop point and lowers his sunglasses, once again unmasking his true identity. With a black tie and a briefcase, Agent Snickerdoodle makes a very suave cookie deliverer. The cool demeanor of a secret agent shouldn't fool anyone, though. Agent Snickerdoodle takes the time to ask customers how their study sessions are going, or inquire about their feelings on the season finale of "The Bachelor." His warmth to others is like melted chocolate chips straight out of the oven. Perhaps this is why some ladies are more interested in the man behind the sunglasses than the cookies he delivers. Agent Snickerdoodle says ladies swooning over his baked goods are some of his most colorful customers.
After observing the first few deliveries from the passenger's seat, I finally lowered my sunglasses and stepped out of the car. There was a definite tingle of excitement as I handed Agent Snickerdoodle his briefcase and stood next to him, hoping my expression appeared nonchalant—although I think I was more worried about the fact that I could barely see. I have full appreciation for the limited visibility a secret agent has while on duty.
Our next delivery was to an unsuspecting woman celebrating her birthday. The SCS offers gift orders if one is inclined to surprise friends with a dozen cookies (which is obviously the best birthday present one could receive). After wishing her a final "happy birthday," we retreated wordlessly into the night, leaving only the scent of cinnamon behind us.
Driving on El Cajon Boulevard, Agent Snickerdoodle revealed his passion for giving back to the community. Operation: Cookies for Communities allows The SCS to donate cookies to any philanthropy event on campus. From baker and secret agent to philanthropist, this tall, dark and mysterious man continued to surprise me.
When pressed about his favorite cookie, Agent Snickerdoodle laughed and replied, "They are all like my children." However, his current favorite is the white chocolate and orange zest, along with the popular cookies-and-cream cookie. I must say, while these two types of cookies are quite delectable, I'm a traditionalist. Their shared ingredient, however, is secrecy.
Agent Snickerdoodle's current mission is to bring his cookies to Peabody's Organic Coffee on campus, which would make for a less exciting, but still satisfying snack. Considering my craving for cookies is constant, I fully support this mission. In the meantime, though, Aztecs looking to satiate their sweet teeth will have to wait until after dusk. Trust me, it's worth the wait.
It was nearing midnight when Agent Snickerdoodle pulled into the parking lot of my building. With a pair of SCS sunglasses on top of my head and a brown paper bag of cookies in my lap, I was content. My mission to reveal the secrets of The SCS was thrilling. I have discovered that the road to becoming a secret agent requires strength, determination and vanilla extract… and, of course, a little bit of mystery.