Cygnet's 'Assassins' is a delightfully dark production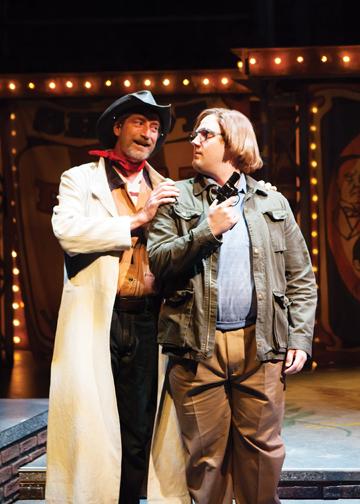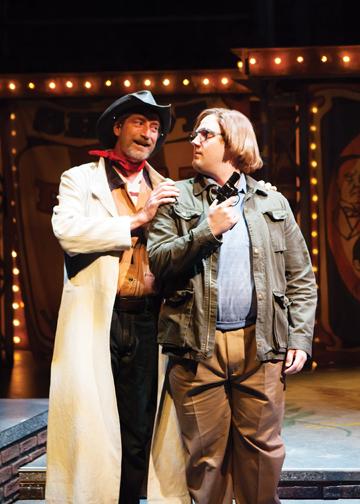 It's ironic how many recent musicals in San Diego have been about murder. The satirical "Chicago" was at the Birch North Park Theatre and the absurd comedy, "A Gentleman's Guide to Love and Murder," will finish at The Old Globe shortly. Now, a production of the provocative show, "Assassins," is playing at the Cygnet Theatre. Although some might be put off by the dark subject matter and the offbeat tone, open-minded audience members will be blown away by the gutsy storytelling.
"Assassins" follows the lives of individuals who have killed or have attempted to kill several U.S. presidents. The plot is a series of vignettes in which each psychopath, including John Wilkes Booth (Braxton Molinaro), John Hinckley, Jr. (Kurt Norby) and Lee Harvey Oswald (Jacob Caltrider), get at least a moment in the spotlight.
Cygnet co-founder Sean Murray directs with a clear vision. His staging is sometimes stylized, such as in the opening scene, which takes place in a fairground shooting gallery. However, he never detracts from the engaging characters.
What might catch spectators off guard is just how funny Stephen Sondheim's lyrics and John Weidman's book are. The humor can sting, as evident in the musical number, "The Ballad of Guiteau," in which the oddly optimistic Charles Guiteau (Geno Carr) sings an upbeat tune before being executed for shooting James Garfield.
Many of the broader laughs are saved for Melinda Gilb's depiction of Sara Jane Moore, a woman who tried to kill former President Gerald Ford. Her poor gun skills are played for slapstick hilarity and Gilb is quite the comedian whenever she's on stage.
Though there are plenty of quirky jokes for most of the running time, "Assassins" is also a very grim play. The tension slowly builds to a climax revolving around Lee. While I don't want to give away too many specifics about what happens, it is a very ambitious sequence that deals with killers through the test of time. It's such an unsettling ending that even cynics can admire the chutzpah that occurs on stage.
Every performer feels authentic to his or her part, but I think Caltrider has one of the most difficult roles. He gets to play Balladeer, a singing narrator whose wonderful voice makes songs such as "The Ballad of Booth" and "The Ballad of Czolgosz" all the more memorable.
Caltrider's take on Lee is the equivalent of watching a human being turn into a monster. In just a few minutes, Caltrider showcases a variety of emotions—from fear to cold disconnect—and experiencing Lee lose his grip on reality is disturbing.
San Diego State alumna Melissa Fernandes is also outstanding as Lynette "Squeaky" Fromme, a disciple of Charles Manson who, along with Sara, tries to shoot Gerald Ford. In a duet with John Hinkley, Jr., "Unworthy of Your Love," she memorably expresses Lynette's abnormal dependence on the infamous criminal.
Surreal and full of black comedy, "Assassins" is a satisfyingly invigorating play. Murray has once again taken risky material and created a beautifully realized revival.
Tickets and information about "Assassins" can be found at cygnettheatre.com.