SDSU honored as top school for Hispanics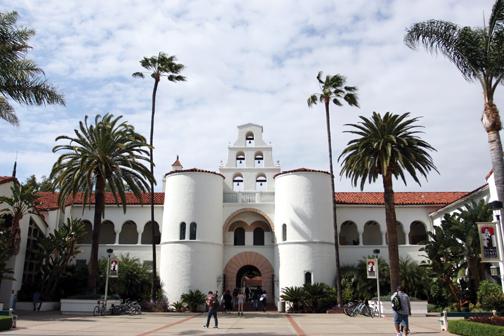 Hispanic Network Magazine has ranked San Diego State among the "Best of the Best" in colleges and uni- versities for minorities in 2013. The university was also credited for hav- ing one of the top Master's of Business Administration (M.B.A.) programs in the country.
Although SDSU didn't enter the annual review survey this year, it was chosen as an awardee based on inde- pendent research conducted by DiversityComm, Inc. (DCI), Administrative Assistant for DCI Karin Sweet said.
The research conducted by DCI, the publisher of the Hispanic Network Magazine, found SDSU was eligible based on outreach and accessibility to Hispanic, African-American, vet- eran and women populations for the year of 2013—a requirement stated in DCI's methodology.
Cornell, Harvard and New York Universities were listed alongside SDSU in the MBA program category.
SDSU Chief Diversity Officer Aaron Bruce attributes the title to SDSU's commitment to the success of its stu- dents, which can be seen in the gradu- ation rates of Hispanics at both the undergraduate and graduate levels.
"I'm proud that SDSU continues to make amazing strides in the Hispanic community. Being one of the top M.B.A. programs for Hispanics means that the demographics of future corporate leaders will reflect the rich diversity of our region and our country," Bruce said.
He acknowledged that the ranking is already making an impact as SDSU alumni in leading management positions provide networking opportunities for students by way of corporate partnerships, internships and mentoring.
The ranking also comes as an important recognition for the SDSU
Center for Latin American Studies, which offers students both the MBA and MA programs.
Director of the SDSU Center for Latin American Studies Ramona Perez hopes the ranking will encourage Latinos to think about SDSU as a "progressive graduate career" and allow people to realize that graduate school is attainable.
"(The title) also helps businesses understand how important Hispanics are to the future of business in this country," Perez said.
Both Bruce and Perez consider SDSU's campus atmosphere as an extremely positive community for Hispanics.
"We have reached a critical mass that leads to a thriving campus community, innovative academic programs, organizations and activities which benefit all students," Bruce said.
Perez described the various opportunities available to SDSU Hispanics and other minorities, including courses designed to provide students with a sense of self-identity.
"There are a lot of resources on this campus … everything from Educational Opportunity Programs—the tutoring center is one of the top EOP programs in the state, if not, the nation—to courses designed … for Hispanics in engineering and in biology," Perez said.
She explained with the MBA program, the SDSU College of Business helps students think about life's obstacles and acknowledge how good they are at what they do to overcome those struggles.
"The struggles will always be there. The question is how well do we train people to address them. How well do we train people to be innovative, to be problem solvers? Because if you're those two things it's going to be really difficult to hold you back because of your last name … because of the color of your skin," said Perez.
Perez is proud of the ranking on behalf of SDSU and its Center for Latin American Studies. which she said was earned because the staff and school are "really good" at what they do.