Shakespeare's characters revived for laughs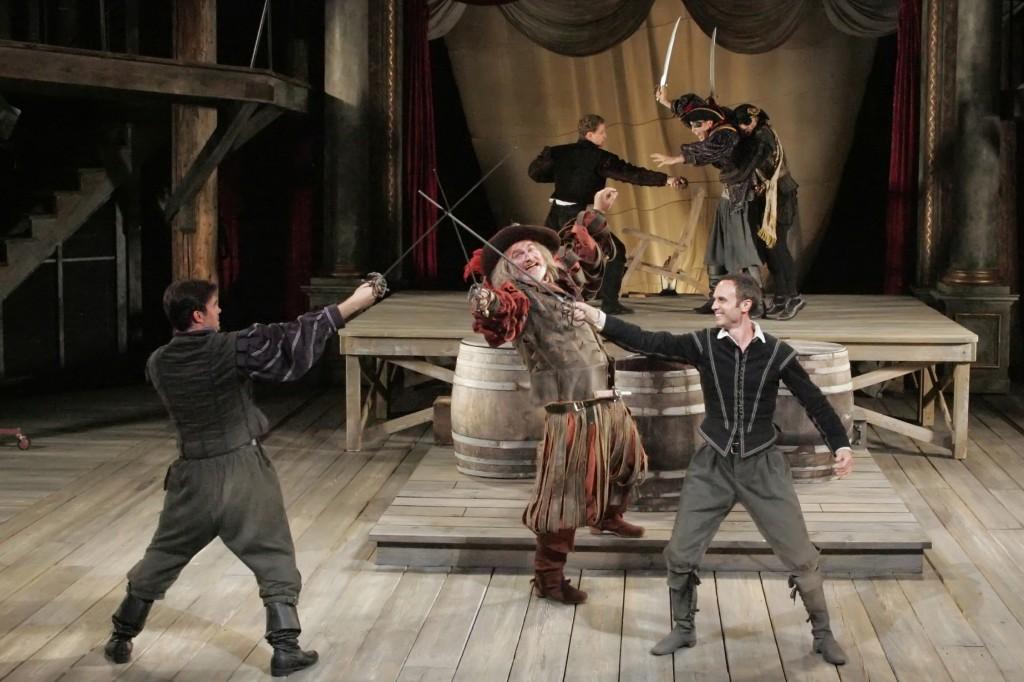 Although not written by William Shakespeare, "Rosencrantz and Guildenstern are Dead" is a perfect addition to The Old Globe's 2013 Festival. Tom Stoppard's script, a spinoff of "Hamlet," has plenty of clever references for fans of the tragedy.
Close friends, Rosencrantz (John Lavelle) and Guildenstern (Jay Whittaker), try to figure out the meaning of life. As minor characters, killed off in "Hamlet," they're resurrected for the purpose of this play. They spend their time in the wings of a stage, where the show is being performed, waiting for events to unfold.
Eventually, the two become involved in classic scenes from the tale of the Prince of Denmark. Becoming more confused about their existence, the courtiers attempt to determine if free will exists in the world they inhabit. What stands out the most in "Rosencrantz and Guildenstern are Dead" is Stoppard's intelligent writing that provides sophisticated comedy without being self-indulgent. It's a fine example of theatre of the absurd with parallels to Samuel Beckett's "Waiting for Godot."
Similar to that existentialist story, focusing on men who realize they do not have control of their destinies. Stoppard's message is pretty grim, however the clever prose keeps the mood from becoming emotionally draining. Adrian Noble's direction has a fairly straightforward set, and the staging creates a sense of wonder, especially when other thespians are there with the protagonists. This awe is best expressed in Act 3 when Rosencrantz, Guildenstern and Hamlet (Lucas Hall) engage in a delightful pirate battle.
Thankfully, Noble brought back several actors from the 2007 Shakespeare Festival production of "Hamlet." Hall reprises his interpretation of Hamlet quite well and Charles Janasz has uproarious moments as the bumbling Polonius. These casting choices offer plenty of nostalgia for loyal attendees of The Old Globe. As a new addition, Sherman Howard is impressive as The Player.
Having some of the funniest prose, he's the mysterious leader of a troupe of actors: The Tragedians. While most of the running time is spent only with Lavelle and Whittaker; they're both so entertaining that their chemistry makes the production pass by quickly.
Lavelle gives a strong comedic performance as Rosencrantz with plenty of circus-style clowning. He does a remarkable job combining naïveté with endearing platonic love for his buddy, Guildenstern.
Whittaker is stellar as Guildenstern, the smarter of the duo. The reliably versatile actor ranges from deadpan delivery to being very intense. Witnessing Whittaker's dark dialogue about death is one of the bleaker elements of the play. Quirky and offbeat, Stoppard's modern classic is a must-see for fans of "Hamlet," as well as those that are not as enamored with the text.
Tickets and information about "Rosencrantz and Guildenstern are Dead" can be found at theoldglobe.org. ALSO READ: Comedic drama mixes grimness with humor