Student Union expected to open by 2014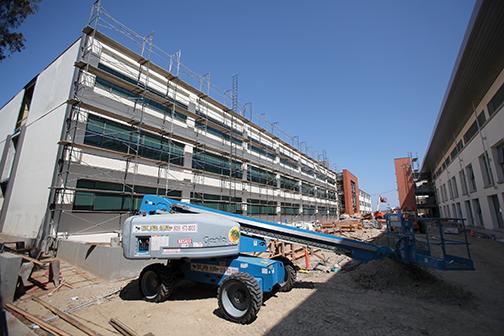 Three major ongoing construction projects and repairs to utilities costing more than $189 million are expected to be complete by late fall or early next year. The buildings being built or renovated are the Aztec Student Union, Storm and Nasatir halls and University Towers. In addition, the university is completing the first phase of repairs to campus steam lines.
Aztec Student Union
The Aztec Student Union on College Avenue (between Manchester Hall and Student Services West) is scheduled for completion Dec. 26, with opening ceremonies predicted for Spring 2014, according to its website. The new $101 million student union was originally expected to open in July, but was pushed back when construction workers encountered unforeseen delays while unearthing utilities beneath the building's foundation.
The 206,000-square foot student union—funded by a $94 student fee increase that goes into effect this fall—is roughly twice as large as the previous Aztec Center, which was demolished to make way for the new structure.
Despite the building's considerably larger size, it will operate on the same budget as its predecessor because of its sustainable design, San Diego State architect Robert Schulz said.
[quote]It was a total renovation. We took it down to raw concrete structure.[/quote]
The building is being constructed to Leadership in Energy and Environmental Design Platinum certification standards, a designation of the U.S. Green Building Council for structures that achieve high-energy efficiency.
The building will utilizes several solar panel arrays located on its roof and Parking Structure 1 to cut its energy costs by roughly 35 percent, Schulz said.
In addition, the building's design netted more than $874,000 in rebates from the California Center for Sustainable Energy beneath the California Solar Initiative, a program to incentivize the construction of buildings using solar power, Associated Students Director of Facilities and Sustainability Glen Brandenburg said.
Storm and Nasatir halls
Lecture spaces in Storm and Nasatir halls will open in the spring once the majority of the $73 million project to renovation is complete.
"It was a total renovation. We took it down to raw concrete structure," Schulz said.
The geography lab currently located in Nasatir 100 will move into Storm Hall in spring and the old structure will be demolished to make way for a dining facility.
Schulz estimated 30 percent of enrolled students use Storm and Nasatir halls and the Arts & Letters building, all located in the northwest corner of campus. The two halls will house eight departments from the College of Arts & Letters.
Nasatir Hall, which faces the campus, was designed in the same mission revival style of many buildings on campus, including the new student union, Schulz said. Storm Hall, which rests on the slope overlooking Mission Valley, has a more contemporary design, complete with a glass office-tower block, a large glass-sided lecture hall, and a patio with glass-solar panel trellised veranda.
The project is funded by $62.8 million in state bonds and $10.2 million in non-state funding, according to SDSU NewsCenter.
University Towers
Improvements to the University Towers residence hall include a complete renovation of the first floor to improve circulation, a new facade, added meeting spaces and a new dining facility.
Students will move into the residence hall on the corner of 55th Street and Montezuma Road at the start of the fall semester as construction on the dining facility nears completion in September.
The $10.1 million renovation is a project of Aztec Ltd. Shops and is funded by its self-generated revenue.