Sushi Do is a sushi don't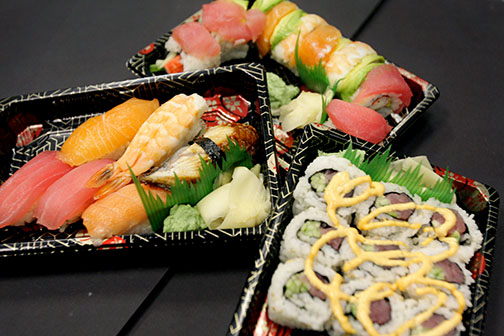 Sushi dinners are normally reserved for first dates, birthday celebrations and payday.  Soon, this will no longer be the case.  Sushi Do has come to San Diego State University.
Returning students may have noticed chefs slicing large slabs of fish and forming balls of sticky rice have replaced what once was the Taco Bell in West Commons.  Sushi Do is the newest eatery on the SDSU campus offering quick and appetizing meals to students.  The chefs at Sushi Do make rolls fresh on-site, then package them in plastic boxes that students can grab, pay for and go.  This eliminates any sort of waiting time, which is essential to the busy lives of most students.
Panda Express recently eliminated sushi from their menu making Sushi Do the only restaurant on campus for students to get their sushi fix.  The Aztec Market sometimes carries prepackaged California rolls; however, the fresh ingredients used by the Sushi Do team cannot be competed with.
Sushi Do offers appetizers such as stuffed soy pockets and edamame along with its full sized rolls. I first sampled the seaside roll which contained tuna, avocado, imitation crab and cucumber.  The flavors in this roll were very subtle, and demanded to be kicked up with the help of some wasabi and soy sauce.  The actual amount of fish presented in the roll was small, but I did appreciate knowing that the roll had been made only hours ago.  The seaside roll was exactly what one would expect out of boxed sushi—nothing more and nothing less.
Then I moved on to the rainbow roll, which is a California roll topped with a layer of avocado, shrimp, salmon and tuna.  Unfortunately, the chunks of imitation crab were so large and synthetic tasting that they distracted from the deliciousness provided by the fresh avocados and fish.
The best offering from Sushi Do is the chef's choice nigiri.  Here, there were no fancy sauces or intruding vegetables, just pure slices of fish accentuated by some rice and soy sauce.  The quality of the fish used shines in the nigiri selection.  The tuna is a deep-red color with a velvety texture, the salmon melts in your mouth and the eel is sweet while avoiding any sliminess.  Unfortunately, the shrimp was my least favorite of the nigiri pieces because of its rubbery texture and cheap taste.
The prices at Sushi Do vary.  Rolls generally fall into the $5 to $10 price range.  A seaside roll costs $5.99 whereas a box of nigiri or sashimi costs closer to $10.  Most SDSU students work part-time jobs at minimum wage, if they work at all.  Taking that into consideration, it's hard to imagine students flocking to a restaurant where the prices are high and the meals not so filling.  Students can get a hearty burrito from Rubio's Fresh Mexican Grill for about $8 or a chicken bowl from So-Cal Chicken for about $7.  Even if you're absolutely craving sushi, you can always pick up a California roll from the Aztec Market for $5.99.
While Sushi Do fills a dietary gap on campus, I can only see their real customers being freshmen with cushioned meal plans.  Nearby sushi houses, such as RB Sushi and Sushi Deli, offer students larger, tastier entrees that provide more bang for their buck.  Students, you must bid adieu to your beloved Taco Bell, but don't let that fool you into settling for mediocrity.  Simply roll the other way.