Talented directors tackle ambitious subject matter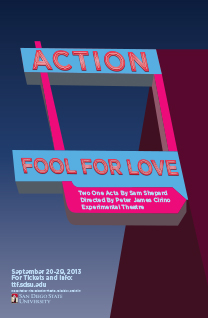 The School of Theatre, Television and Film at San Diego State is presenting a selection of thought-provoking and complex shows that will take audiences on potentially haunting journeys revolving around romance, female empowerment and homophobia. In other words, do not leave your brain and soul at the door when seeing any of these productions.
"Two by Shepard: Fool for Love and Action" are dark one-acts written by the legendary actor and playwright, Sam Shepard. "Fool for Love" is an unconventionally romantic story about a man trying to win back his ex-girlfriend; "Action" is a science fiction adventure about several people who live "in a world frozen in time."
The innovative director Peter Cirino will hopefully help introduce SDSU students to this highly praised writer whose work has been considered to be both out there and brimming with intelligence.
"A … My Name is Alice" is a collection of original songs and vignettes celebrating what it means to be a woman. The experience is likely going to be an emotional one with sketches that should make people laugh as well as pull on their heartstrings.
This will be the first time that triple-threat actress, Roxane Carrasco, is directing a musical at SDSU. Expect tons of pathos and unforgettable tunes.
Lastly, the season will end with C.J. Keith's take on "The Laramie Project." The tragic true story is based on a town's reaction to the murder of University of Wyoming student Matthew Shepard. The young man was killed because he was gay.
Keith will likely direct with her proven sensitivity and respect to the factual events. You might want to bring tissues.
This semester has the potential to be another memorable one for theater on campus. Aztec students, faculty, staff and the community should check out these gutsy and edgy theatrical experiences. For a low price, you get to see first-rate entertainment with talented cast, crew and direction.
Tickets and information about the theater season can be found at theatre.sdsu.edu.
Photo courtesy of theatre.sdsu.edu