Commuters may be in for the long haul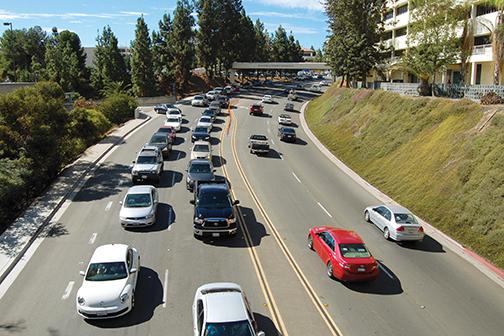 Recent research by San Diego State's Division of Student Affairs has shown commuter students tend to have lower retention and graduation rates than students who live on campus their first year.
Director of Student Testing Assessment and Research Reynaldo Monzon began analyzing data on first-time freshmen in 2007 at the behest of then-Vice President of Student Affairs James Kitchen.
During the data breakdown, Monzon was able to create a small profile of each student during their freshman year while factoring in many variables, including who was in Educational Opportunity Programs, who attended orientation and who lived on and off campus.
The results show a correlation between academic progress and whether or not a student commutes to school, said Eric Rivera, the current Vice President of Student Affairs.
"(We) figured out that our students that lived on campus tend to have higher GPAs, higher graduation rates, faster time to graduation and are less likely to be on probation," Rivera said.
The research defines a commuter student as one who attends a local high school and most likely lives at home.
Tracking incoming freshman classes since 2008, research shows commuter students are less likely to return their sophomore year than their peers who have lived on campus for at least one year.  Additional data from the freshman class of 2008 shows students who lived their first year on campus were more than twice as likely to graduate in four years compared to commuters.
For that same freshman class of 2008 the one-year retention rate among commuters was 74 percent—8.1 percent behind resident students. That gap widened to approximately 10 percent for the freshman class of 2009.
The gap shrunk to 3.6 percent for the class of 2010, possibly because of the admissions policy enacted that year that declared all majors impacted and limited access to local students who typically living off-campus.
However Rivera and Monzon said the trend between commuter and resident students is consistent. The biggest disparity between the two is shown in time-to-graduation rates.
Rivera and Monzon said local commuter students are susceptible to false impressions about the academic expectations of SDSU because of misguided advice from their mentors who attended the school in a different era.
"Yeah, it's true back then when I was here at State 20 years ago it pretty much was a commuter campus," Monzon said. "Things are different these days. One, it's harder to get classes."
Students now are also expected to be more engaged outside the classroom, which may impinge on local students' work and family responsibilities, Monzon added.
"For them it's the next step from high school, but the only thing that changes is the school," Rivera said. "So that residential piece, there's something that happens in that one year where I guess they build the community, they make those connections, they have access to tutors in the residence halls. Those kind of things really help shape their next three years at San Diego State."
Commuter students are more likely to work longer hours and have responsibilities outside the classroom such as caring for dependents, which leads to lower levels of academic engagement, according to research from the Indiana University Center for Postsecondary Research and Planning. The research drew on surveys conducted in 2000 and 2001 by the National Survey of Student Engagement.
With the data in hand, the Division of Student Affairs began to develop learning communities specifically for commuter students under Student Life and Leadership, along with Compact Scholars which is administered by the Division of Undergraduate Studies.