Lady Aztecs struggle to tame No. 14 Wolverines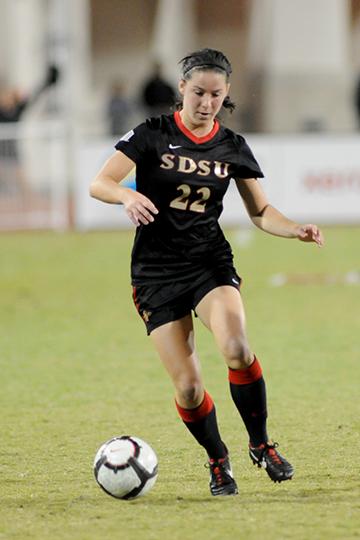 It's been an unsatisfying weekend for the No. 21 San Diego State women's soccer team after it failed to find the win column following a short two-game trip to the Midwest.
The Aztecs played another game resulting in a tie for the second time after five games thus far, and came up short in the second game of the two-game trip, dropping their second game of the season.
On Aug. 30, SDSU began its East Lansing, Mich. trip to square off against the Michigan State University Spartans. The game looked good early on for the Lady Aztecs after junior forward Hannah Keane passed the ball, finding junior forward Haley Locker on a breakaway and scoring the first goal in the 24th minute of the game. With Locker's goal, the Aztecs led the Spartans 1-0.
But just before halftime, the Aztecs surrendered a goal after redshirt sophomore goalkeeper Melanie Vaughn had the ball knocked out of her hands, resulting in a goal by MSU's redshirt sophomore midfielder Kirsten Evans. Vaughn appeared to have fallen down, which led to an empty-net goal.
With the game tied 1-1 at halftime, both teams failed to score in the second half and for the rest of the game, leading to an eventual 1-1 draw after playing in double overtime.
Two days later after the draw with the Spartans, on Sept. 1 the Aztecs found themselves in Ann Arbor, Mich. to face the No. 14 University of Michigan Wolverines, but failed to come home on a winning note.
Early on, once again the game looked good for SDSU. At the 1:58 mark in the first half, senior defender Carli Johnson dribbled to the middle and scored from 25 yards out, with some assistance from Keane.
Just 3 minutes later, the Wolverines responded when Michigan's sophomore midfielder Christina Ordonez scored on a header at the goal line to tie the game at 1-1. After that the Wolverines never looked back. At the 30:59 mark in the first half, freshman forward Madisson Lewis scored for the Wolverines to give Michigan a 2-1 lead heading into halftime.
Senior forward Nkem Ezurike scored the next goal in the second half for the Wolverines at the 64:30 mark and the Aztecs couldn't catch up. After dropping this game 3-1, the Aztecs are now 1-2-1 overall.
Next up, SDSU will return home to face the University of Houston at 12 p.m. this Sunday at the SDSU Sports Deck.