SDSU engages students with new media lab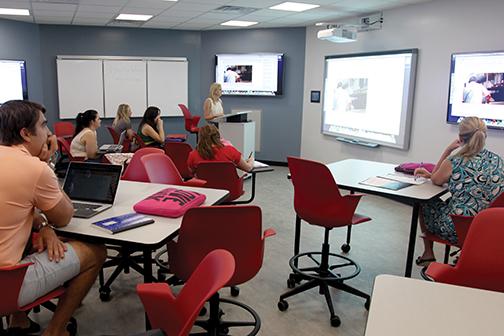 The School of Journalism & Media Studies unveiled a new digital media studio to students this semester, coordinating with the journalism and media studies digital media lab that opened last October.
Professional Studies and Fine Arts 374 has been transformed into a collaborative state-of-the-art studio where students can experience the advantages of modern technology including 20 Macbook Pro laptops, eight iMac Thunderbolts with 27-inch LED displays, Apple TV and "mirroring" capabilities, Smartboards (digital whiteboards), and desks, wheeled chairs and tables, providing an environment of easy collaboration.
The room is modeled after Adams Humanities 1120, which contains much of the same technology.
"I love teaching in here," journalism & media studies adviser and lecturer Lanie Lockwood said. "I found … that it is so much easier for students to work together."
Lockwood described how students responded to the new media studio, which became fully operational on the first day of classes this semester.
"When the students walk in … their first word is 'Wow.' I think students are very excited and energized by (the studio)."
As many as five classes are scheduled and taught in the studio every day.
Funding for the labs has come primarily from donations made by the Friends of Journalism & Media Studies Fund, the College of Professional Studies and Fine Arts instructional equipment fund and Continuing Education Revenue funds.
Journalism & media studies internship coordinator Nicole Vargas explained how the studio and lab complement each other to provide unique learning opportunities.
"The digital studio is a bigger room, the kind of place you are going to spend more time. The projects are larger-scale, the room is more slower paced whereas the media lab, is an iPad lab … the goal is to move faster, to be mobile," Vargas said. "Each room has a different personality."
Public relations professor Bey-Ling Sha said she was excited for the recent additions to the school.
"These labs permit JMS students to learn not only from award-winning faculty, but also on cutting-edge equipment with the latest software used in the industry," Sha said. "This is an exciting time to be involved with the School of Journalism & Media Studies, whether you are a student, alumnus, community member, or friend."
However, PSFA 374 isn't the first room to undergo a technological transformation.
Instructional Technology Services Director James Frazee described the growing demand for updated electronics such as wireless projectors and video conferencing capabilities.
AH 1120, the media lab created by ITS, was the first room to contain the multitude of technology that can be seen in PSFA 374. Frazee described it as "state-of-the-art" with its four LCD panels, Smartboard projection system, 30 iPads and Apple TV integrated for wireless display.
Student Services West 2649 is another classroom updated with advanced technologies. It contains web and video conferencing technologies that lets students collaborate with Calexico SDSU and Imperial Valley campuses, along with other global campuses, Frazee said.
ITS works with classrooms centrally scheduled through the Office of the Registrar's office however, so is not always contacted in the event of technology updating around campus. Because of this, it is difficult know exactly how many sites on campus are utilizing advanced technology, Franzee said.
What is for certain is that "(the sites) are growing and we are trying to promote them," Frazee said.