Plenty of fun for all ages at Kids' Film Festival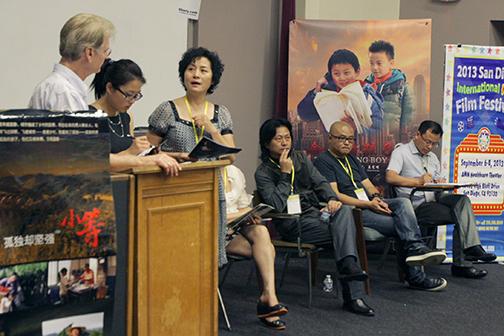 The 2013 San Diego International Kids' Film Festival was recently in town. On Sept. 6 at San Diego State's own Little Theatre, directors, actors, producers and screenwriters from China were on campus for a free satellite event to promote the film, " The Reading Boy."
The on-campus event gave Aztecs interested in foreign flicks a unique opportunity to meet prestigious directors and ask questions.
Three different events were showcased at the presentation: a press conference, a panel discussion and a free screening of " The Reading Boy." The panel discussions were separated into multiple topics pertaining to the Chinese film industry, including the distribution of medium- and low-budget films, the production and distribution of films, the production of children's films, the filming of digital films and the development of experimental films.
Throughout the panel discussion the audience was able to participate and ask questions. The opportunity to learn about aspects of the industry made the panel discussion highly educational and provided great insight into how the Chinese film industry operates.
"Money to make the films is provided by local governments; the average cost for a conventional film cost $2 million," stated award-winning actor, director and producer Zhuping He. She has worked in the film and television industry for more than 30 years and has won seven awards for her performances.
"The Reading Boy" was shown at the end of the panel discussion. The drama is a heartwarming story about the relationship between Kaikai, the protagonist, and his sick grandfather. Since Kaikai's parents work miles away in the city, the 9-year-old country boy has the demanding responsibilities of taking care of himself, the household and his sick grandpa.
The film displays touching scenes with Kaikai reading to his grandpa in the chilly evenings and spending time with his beloved dog. Despite many challenges, Kaikai learns how to manage both school and home life. "The Reading Boy" inspires viewers to go after their dreams and not let obstacles get in the way of accomplishing their goals.
ALSO READ: No tickets needed for school fair
Photo by Jenna Mackey