Aztecs stage Syria protest on campus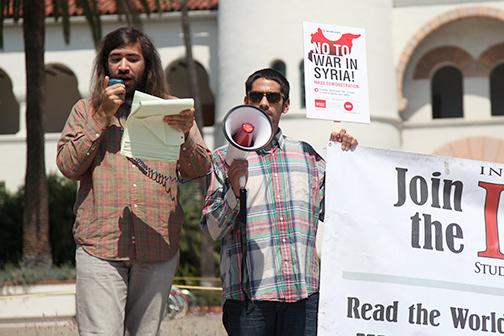 Members of International Youth and Students for Social Equality staged a demonstration against war in Syria at noon on Tuesday in front of Hepner Hall.
"While the general public opposes a war, politicians of both parties are pushing for a war. This is only a sign of a decay of American democracy," San Diego State IYSSE Chapter President Jake Seibel said to a crowd of 30 or 40 students who stopped to watch the demonstration.
Seibel and other members of the group—an organization promoting international socialism—decried U.S. policies they said set the groundwork for much of the unrest in the Middle East.
"This is something that by our analysis really comes down to a crisis of capitalism," IYSSE member Clodomiro Puentes said. "This is not something that's driven by any kind of principled opposition to human rights, it's entirely driven by geostrategic interests behind Syria's stance (in) Iran, behind Iran's stance China and Russia, which are key economic rivals to the U.S."
Associated Students students-at-large representatives Jessika Seekatz and Washington Navarrete were in attendance and voiced their support after the speeches were done.
"Whether people agree or disagree, what this rally did was bring awareness so that we as students know what is happening abroad," Navarrete said. "As students it's easy to get caught up with school, work, being involved … and forget that there are issues around the world that one day will be a major part of history."
Seekatz also said she liked the speeches for framing the Syria issue in a wider economic and social context.
In a televised speech Tuesday evening, President Barack Obama primed the nation for a possible limited airstrike against Syrian President Bashar al-Assad's regime while holding out hope for a diplomatic solution.
The president is doubling down in talks with Congress and Syrian ally Russia to forge a compromise with Syria to put its chemical weapons in international control.
"In part because of the credible threat of U.S. military action, as well as constructive talks that I had with President Vladimir Putin, the Russian government has indicated a willingness to join with the international community in pushing Assad to give up his chemical weapons," Obama said.
The speech came after the president met separately with Democratic and Republican senators to request they delay a vote on military action against Syria, in a bid to keep alive the threat of a U.S. strike while negotiations with Russia, Syria and U.S. international allies continue.
Failing a diplomatic solution, the president said he is determined to use military force against Assad's regime, which is believed to have launched a chemical weapons attack on its citizens on Aug. 21.
A Pew Research Center poll released Sept. 9 found 63 percent of Americans oppose airstrikes against Syria, an increase of 15 percent since the previous poll released on Sept. 3.
The poll also finds that a majority believe airstrikes will make the situation in the Middle East worse.