Middle East map stirs controversy on campus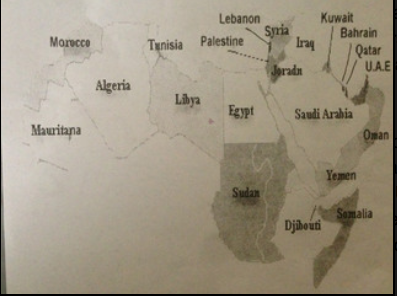 On the first week of school San Diego State students enrolled in an Arabic 101 class received a map of the Middle East highlighting Arabic-speaking countries.
Days later, a call for action was issued by Stand With Us, a pro-Israeli nonprofit organization, to take a stance against the map, which had omitted Israel and labeled the territory as Palestine.
The group asked supporters to contact Department of Linguistics and Asian/Middle Eastern Languages Chair and Arabic Program Director Ghada Osman to put an end to what they claimed was "professors using propaganda in classrooms."
The map was distributed in class by Ghassan Zakaria, a lecturer at SDSU since 2005. Zakaria declined to comment on the situation because of the amount of negative reactions and media attention received in the past week. But he did say the map was never meant to be seen as political or geographical; instead it was meant to display Arabic-speaking countries—about 15 percent of Israel's population speaks Arabic.
As of Thursday evening, Zakaria has not received complaints from students in either of his two Arabic 101 classes; there were no students dropping the class or expressing discontent with the map's labeling during class hours, Osman said.
But Aztecs for Israel member and Stand With Us intern Nirit Revzin said students, who wished to remain anonymous for confidentiality reasons, enrolled in the class disclosed the information and their concerns to Stand With Us which in turn distributed the information through a newsletter email.
"The Pro-Israel community spoke up against this issue because we strongly value education, and want to ensure students recognize reality from falsehoods," AFI said in a statement.
The university also said in a statement that "while SDSU encourages scholarly debate and discussion of varying opinions, presenting inaccurate information to students is not acceptable."
Multiple student organizations including Students for Justice in Palestine, Afrikan Student Union, Movimiento Estudiantil Chicano/a de Aztlan, Students of the World and the Arab Student Association among others signed a letter to SDSU Provost Nancy Marlin asking to not censor freedom of speech in the classroom in support of Zakaria.
According to AFI's statement, "campus organizations gathering together to promote this map … will further serve to divide students between those who publicly support lies, propaganda and hate crimes."
On Thursday, after battling scrutiny for a few days, Zakaria redistributed the same Middle Eastern map to students in class, only this time Israel was added to the map by hand.