Professor and director dares to be unique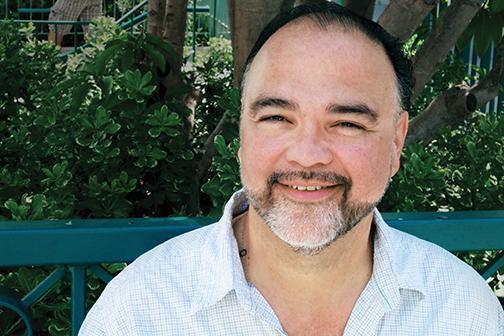 Associate Professor Peter James Cirino is directing the first big play of the School of Theatre, Television and Film's fall semester at San Diego State. In the play, "Two by Shepard: Fool for Love and Action," Cirino isn't afraid to push the envelope and take big risks when it comes to telling stories.
The Aztec: Can you tell me a little bit about both shows?
Peter Cirino: These are plays that I love. I acted in "Action" when an undergraduate in Texas. I also directed this once before. To me, it's a piece about finding some kind of reality in this mishmash world where passion is being dumped on and ideas are being squished.
The message is about how you got to keep living somehow and survive with the people around you and how individuals can become a family with new friends that they meet. That's what theater is to me. I was an only kid, so every time I created a show, those people became my family.
"Fool for Love" is about that whole time in your life when you are just living with passion. It's perfect for college kids, because students feel like they are invincible and that nothing is wrong, but there are realities. In this show, there are stark and dark realities that the lead characters have been facing since high school. They can't stop their destructive behavior and have fiery passions that are tearing them apart.
TA: How did you get the courage to push the envelope and be cutting-edge?
PC: I am a big optimist about the world, but I believe to be a true optimist, you have to be on the cutting edge on taking risks when nobody takes them. I can't tell you that every single risk that I have taken was successful. There are still people today who think that some of my ideas are crazy.
Since this is a college campus, we should take risks to knock on the very edge and see what happens. If you fall, sometimes those make the best artistic choices.
TA: Which do you enjoy more-teaching or directing?
PC: I've always done both. When I was an actor, I was working with young actors in high schools and grade schools. It doesn't seem like they are separate to me.
It feels like it's all one thing that we do here. I don't see how we can do one without the other, especially in our field.
TA: Do you have any advice for SDSU students?
PC: This is the time to search out your passions. The killer to me in life is apathy, letting things just happen. We are not waiting for anything anymore. With today's media, this is a perfect time to be engaged with life and be passionate. SDSU is a great place that allows you to do that and grow in a multitude of areas.
Tickets and information about "Two by Shepard: Fool for Love and Action" can be found at theatre.sdsu.edu.
ALSO READ: San Diego State's Renaissance man
Photo by Jordan Owen, senior staff photographer