Xander Schauffele: A committed, team-oriented golfer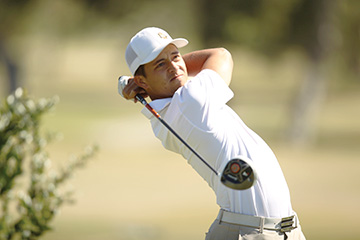 The San Diego State men's golf team is about to begin its season with its first tournament on today and tomorrow in Washington. Before the team left, contributor Patrick Carr had a chance to sit down with all-Mountain West Conference junior golfer Xander Schauffele to really get a sense of what the golf experience is like.
The Aztec: Since golf isn't in the public eye as much as football, people might not know as much about it. If someone asks something such as, "What does the golf team do?" what would you say?
Xander Schauffele: When people ask me whats collegiate golf  is like, golf is an individual sport. To be on a team, not really a lot of people know what that means. We are a team; when we make decisions on the course, it's as a team. You don't want to be an idiot and do something to hurt your team. One little mental mistake can cost us a championship and that's the biggest deal.
TA: What is your routine that's associated with the golf team?
XS: We have workouts at 6 a.m. Monday, Wednesday, Friday. It's mainly core and leg stuff and our trainers are good with that. Coach Ryan Donovan really trusts us a lot to do our job in practice. We all practice on a Tuesday or Thursday. We all get our work in.
TA: How are the matches scored in a team sense?
XS: There's five guys … we all play, usually there's threesomes or foursomes. There's one guy from each team and whatever rank we have through qualifying will match up with the other person's rank. The best 4 out of the 5 scores (on the team) count.
TA: Last season, the team finished in second place in the MWC Tournament and then missed out on the NCAA Championships by one shot on the playoff hole. How did you feel after that?
XS: It was brutal. I know it's a team deal, but I take a lot of responsibility for that. I had a putt to extend the playoff and I missed it. It was like 4 feet. I was pretty livid after the situation, it took a little while to get over to be honest.
TA: With that behind you, how high is your motivation right now?
XS: It's burning. The returning guys will know exactly what it's like and we all want to do well. We had glimpses of hope every once in awhile, but overall it was not a successful year in my opinion. We've got a lot to prove this year. I think we're all really excited as well.
TA: Last month, you competed at the U.S. Amateur Championships in Massachusetts at a course that also hosted the U.S. Open in 1988. What was that experience like?
XS: That was awesome. That was a huge stepping stone for myself in my career. First off, it's really hard to qualify for it and just getting out there they make you feel like you're special. if you make it far enough. I was on TV and I was getting messages from everybody. It was pretty awesome
TA: How did you get into golf? What has made you stick with it?
XS: It was my dad. I used to play soccer. I think I started taking golf seriously when I was 13. I started playing when I was about 9. I think it was the point where I wanted to play professionally when I was about 13 or 14. Once I decided that I kind of went full tilt on it. There's sacrifices, but if there's light at the end of the tunnel I'll still be chasing it.
TA: Before coming to San Diego State, you played at California State University, Long Beach. You had a pretty good year and the team also had a good season. After that good of a year, what made you become an Aztec?
XS: I went there to sign for a different coach and he decided to leave after three months and we didn't have another coach until February. We were basically on our own for three to four months. I learned the whole team aspect of it and I never really knew what that was like. Once he left, I was already looking to leave. This (SDSU) was the easiest and best option in my head; it just clicked and I wanted to come here.
TA: What do you do with your free time—if there is any?
XS: There is free time. Personally I like to relax. I'll try to go out every once in awhile to keep a healthy balance. I like sleeping a lot more now and sleeping just sounds good compared to everything else. I like being busy, I don't like having huge gaps in my day.
TA: Apple or Windows?
XS: Windows.