Enrollment strategy changes at SDSU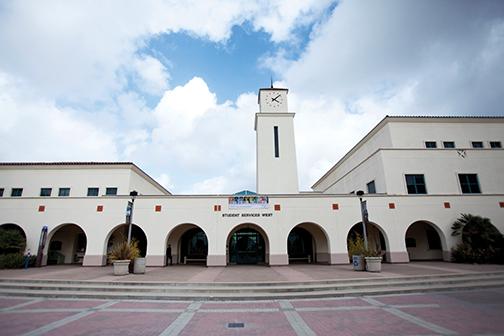 San Diego State is trying to account for a growing number of no-shows after enrollment rates dropped among students admitted for Fall 2013.
The enrollment rate for local first-time freshmen was 32.6 percent this year, a drop of 11.1 percent since 2012. Enrollment rates among nonlocal first-time freshman have also continued to decline from 19.2 percent in 2011 to 14.6 percent in 2013.
Assistant Vice of Academic Affairs Enrollment Services President Sandra Cook said the sudden drop in show rates prompted the university to use a waitlist this year to meet its enrollment goal handed down from the Chancellor's Office.
[quote]…there's something happening with the particularly local show rates.[/quote]
"We haven't had to use the waitlist hardly at all, except this year we did because there's something happening with the particularly local show rates," Cook said. "They're much lower than they have been in the past."
Cook said the university will submit its admissions data to the National Student Clearinghouse within a month, at which point it will learn where the students went.
"I think we're going to see one of two things," Cook said. "We're going to see from the local area either the students have financial issues and went to the community college in greater numbers rather than here, or we're going to see that the students had more options because they just applied more places and decided to go somewhere else."
SDSU receives a large number of applications each year, around 75,000, which more or less guarantees it will meet its enrollment goal. However, a large number of those applicants may be applying to multiple schools, making it harder to determine whether they will choose SDSU.
"We sometimes are a backup school, although the message we try to get out is a lot depends on your major, because if you want a solid business major you're not going to get that at a University of California," Cook said.
Another factor Cook anticipates might affect enrollment trends in the future will be when the so-called Tidal Wave II, a boom in high school graduates throughout the last decade and a half, starts to subside this year.
"This is the year that the number of high school graduates are going to be decreasing," Cook said. "We have to figure out what does that mean for show rates and admission."
California State University media relations manager Erik Fallis said because the university draws around half of its students from community colleges, the effects of a decrease in high school graduates will be slow to show themselves.
"In that regard, if there was a change, it would at least be a few years before we saw an effect at the community college level," Fallis said.
SDSU will put the information it gets from the National Student Clearinghouse to use in the 2014 admissions cycle, which begins Oct. 1, Cook said.
Cook said the university has begun to increase its enrollment target starting this year because of a slight funding rebound.
"The good news is we're done reducing enrollment, and so now this is the first year we've grown a little bit, 1.2 percent," Cook said.