OSU chucks Aztecs 34-30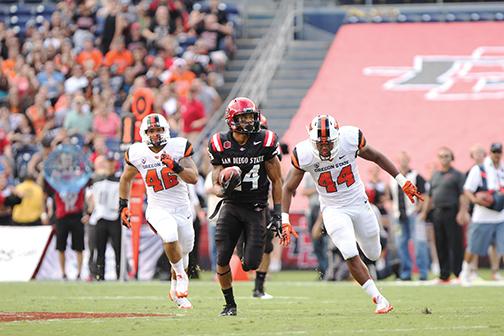 The San Diego State Aztecs suffered a disheartening 34-30 defeat at the hands of the Oregon State University Beavers last Saturday.
Junior quarterback Quinn Kaehler earned his first career start against the Beavers and played an efficient game. In the first half Kaehler was outstanding, completing 9 of 14 pass attempts for 188 yards and two touchdowns.
[quote]"I thought Quinn (Kaehler) had a very good game up until the very end," head coach Rocky Long said after the game. "I thought he threw the ball pretty accurately and made some good plays that kept drives alive."[/quote]
One touchdown throw was to senior wide receiver Colin Lockett for 80 yards late in the first quarter. Lockett caught the pass in the middle, made multiple Oregon State defenders miss and went on to run the ball into the end zone. Freshman running back Donnel Pumphrey also caught a 23-yard touchdown pass on the Aztecs' opening drive. Junior running back Adam Muema had a 2-yard touchdown run in the first half as well.
The Aztecs also had a good first half defensively, holding Oregon State rushing attack to just seven yards on seven carries by three different players. Oregon State junior quarterback Sean Mannion had 170 yards and one touchdown through the first half of play and was sacked one time. The defensive line was able to apply pressure on Mannion most of the night.
"We showed glimpses of what we want to be and what we're capable of," senior linebacker Nick Tenhaeff said after the game. "Obviously couldn't put it together at the end to finish it out."
Aztec senior kicker Wes Feer added a 45-yard field goal in the second quarter, his longest of the season. Feer was 3 for 3 in the game and is a perfect 7 for 7 on the season.  SDSU led by a score of 24-14 at halftime.
But Oregon State's offense would not be subdued the entire game. A pass interference call against the Aztecs set the Beavers up at SDSU's 38-yard line to end the third quarter, and less than 3 minutes into the fourth, Oregon State scored another touchdown.
Mannion threw a 2-yard touchdown pass to senior wide receiver Kevin Cummings, who beat SDSU's coverage on a slant route. On Oregon State's next offensive possession, SDSU freshman defensive back Damontae Kazee forced a fumble, which was recovered by senior defensive back Nat Berhe. It was Berhe's second fumble recovery of the season.
The Aztecs capitalized on the turnover by kicking a 30-yard field goal and running more than 4 minutes off the clock. A huge play for the Aztecs came on fourth down and one yard when Muema was able to get the first down with a 2-yard run.
Down by two scores, the Beavers would need to score quickly to keep themselves in the game, and that's exactly what they did.
Oregon State threw 10 straight passes on a touchdown-scoring drive that took less than 3 minutes to complete. The final play of the drive was a 10-yard completion to junior running back Terron Ward who made an Aztec defender miss in open space, allowing him to run freely into the end zone for the score.
"We probably blitzed about 80 percent of the time and put our kids in a lot of man-to-man coverage situations," Long said. "And until that last 2 minute drive … I thought the pressure helped and the defensive backs did a nice job of covering."
Up by two with less than 3 minutes left in the game, the Aztecs made critical errors deep in their own territory. The drive began with a false start penalty, followed by a 4-yard loss on a Muema run.
On the next play, Kaehler missed Lockett on a screen pass and the ball fell right into Oregon State junior cornerback Steven Nelson's hands, who consequently returned it for a touchdown.
[quote]"I just overthrew it," Kaehler said.[/quote]
On the following drive, Kaehler threw a pass deep down the middle that was tipped by an Oregon State linebacker and picked off by junior safety Ryan Murphy.
[quote]"We are glad as a team that we fought to the very end," junior defensive back King Holder said. "That's a good sign for a team that you have warriors who won't give up."[/quote]
The Aztecs will play at 6 p.m. MST this Saturday when they travel to Las Cruces, N.M. to take on the New Mexico State University Aggies.