5k run brightens San Diego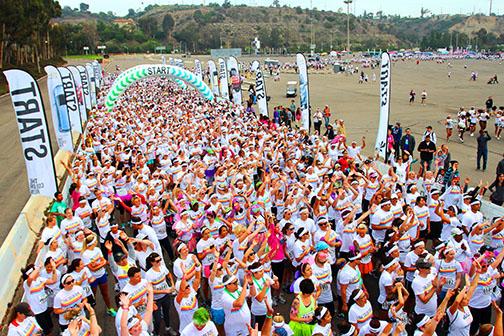 On your marks, get set, color! On Saturday, Oct. 12, thousands of people gathered at Qualcomm Stadium for the popular Color Run.
The Color Run is a 5-kilometer race that douses participants in colored cornstarch powder. Not only is it fun and colorful, but it also promotes healthiness, happiness and individuality, according to the official website. The Color Run is not a serious race, but it does encourage exercise and healthy living. The event brings together friends, families and strangers in a unique and fun environment. It's open to absolutely anyone—there were babies in strollers, little kids, teenagers and even grandparents.
Stepping up from 600,000 participants in the run's debut in 2012, this year more than a million participants looked to add a splash of color in their lives. San Diego is just one of the 100 cities The Color Run is passing through.
Many San Diego State students joined in on the fun.
"I first heard about The Color Run from a friend, so I found their website and it just looked like a really fun thing to do with friends," journalism and media studies freshman Zoe Niederhauser said.
"My friends did it and it looked really fun," undeclared freshman Maura Young said.
Thousands of people assembled at the stadium, decked out in white clothing and colorful accessories such as tutus, fairy wings and funky tube socks. The event started off with some dancing as a warm up. Then, after forming a conga line to the starting point, participants waited anxiously to begin the race and get drenched in color. While waiting, free stuff was thrown into the crowd and runners were already throwing color at one another. When the countdown ended, the race was on and the runners were smothered with color at every kilometer.
"My favorite part was getting the purple powder thrown at me because it's my favorite color," undeclared freshman Allyson Mucha said.
At the finish line, volunteers handed out water and granola bars to the tired runners. The participants gathered by the stage for the "Finish Festival" to dance and go crazy. It was a spectacular sight.
"My favorite part was probably throwing the colored powder in the air with everyone at the end. The atmosphere was amazing and color was everywhere. It was a great thing to experience," Niederhauser said.
The Color Run is a for-profit company that partners with charities to give back to the community. It has worked with more than 80 local and national charities since 2012. The Color Run's global charity partner is the Global Poverty Project, giving Color Runners the opportunity to engage in global issues and make an impact in the world. The Color Run aims in spreading awareness about important issues and causes.
So the next time The Color Run comes around, grab your friends and join the fun! It's a great event that encourages exercise while having a blast—a blast of color, that is!
Photo courtesy of Chris Brake Photography.