Finance experts instruct key points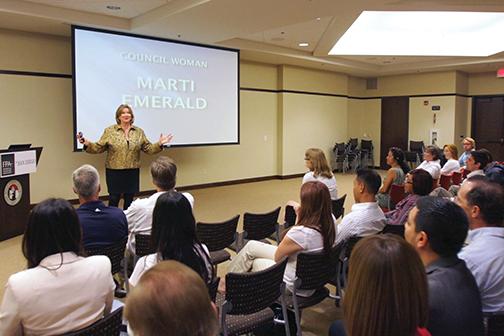 Students and San Diegans at large were treated to free financial advice from certified advisers Saturday at the Parma Payne Goodall Alumni Center.
The Financial Planning Association of San Diego partnered with San Diego State to host its third annual Financial CheckUp Day, which received an official endorsement from San Diego Interim Mayor Todd Gloria.
The event offered free one-on-one advising sessions with 32 volunteer Certified Financial Planners and speeches from industry experts on topics covering home buying, managing credit and graduating school without debt.
"Our focus this year has been on students and parents of students," FPA of San Diego President Kevin Barrett said.
The constant theme from past years was to improve financial literacy among the public.
"Particularly with the (economic) downturn a lot people tend to be ostriches and put their head in the sand and they don't deal with it," Barrett said.
The event was also a learning experience for students who already know a thing or two about personal financing.
Sixteen members of the SDSU FPA student chapter sat beside the certified planners as they helped clients.
Lucas Penshorn, a financial services senior and SDSU FPA member, said watching the professionals at work was an invaluable complement to standard coursework.
"For students I think it doesn't get any better than this; you're not going to do this kind of stuff in a classroom," Penshorn said.
Finance is more than just black-and-red-inked ledgers; it has a personal aspect.
Business administration graduate Vicky Mengfei Li became president of SDSU FPA this fall, her second semester at SDSU since coming to the U.S. from China with a bachelor's degree in finance from the University of Macau. Li switched her emphasis from corporate to personal finance because she sees it as the nurturing feature of finance.
"I want to educate people and help them to stop from suffering financial issues," Li said.
Li said that personal finance remains a foreign concept to many Chinese, a situation she will work to reverse by helping Chinese immigrants with her expertise.
"I know a lot of people from Los Angeles," she said. "They are lower income people. They also need my help."
San Diego 9th District Councilwoman Marti Emerald came to the event directly from the new San Diego Central Library dedication ceremony.
Emerald extended an offer to the crowd made up mostly of financial planners, to work with her office to create similar events in the future.
"I'd like to see these experts in all of our neighborhoods with financial literacy summits on a regular basis," Emerald said.
Emerald identified some particular concerns as populations with unique and pressing financial strains, including those living in areas south of State Route 94, senior citizens and students.
"It's really important for young adults," Emerald said. "Start planning today. Make it part of that educational enrichment that you come to San Diego State for."
Photo by Jenna Mackey, Staff Photographer